Ayatollah Sobhani: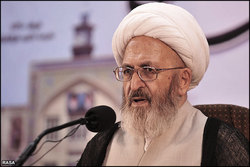 Ayatollah Sobhani, saying that the aim of Islam is to rescue the man from baseness and humiliation, mentioned that the orders of Islam are not against the rights of the man.
RNA - Ayatollah Jafar Sobhani, a source of emulation, in the course of Quran interpretation, held in Hujjatia seminary, interpreting the verse no. 41 of Tawba sura said, "These verses of Quran much stress the case of Jihad, not done so by any other verses, as in the battle of Tabuk, there was a long path before the Muslims and the enemy was strong."
Ayatollah Sobhani, saying that Islam is to rescue the men from humiliation and baseness, pointed out, "If people abstain from heresy and worship God, Jihad will be truly done; worshiping idols is so ugly, as it humiliates the man, and Islam is to honour the man through opposition to worshiping idols."
The prominent teacher of the seminary continued, "Some nationalist say that Iranians converted to Islam under the pressure of Arabs as they had attacked Iran, and it is against the Quranic verse "there is no compulsion in religion."
The response to their claim is the phrase "Arabs' attack" is wrong, as Islam came and condemned worshiping the idols to honour the man. When people receive the Heavenly message, they have the right to choose. Therefore there is no contradiction between Islam and the verse there is no compulsion in religion".
Ayatollah Sobhani stressed, "Islam properly lets people know what they should know, and then the people have the right to either choose the religion or not. But the government ought to belong to Islam, and non-Muslims should be ruled by Islam and their security is provided by Islam."
Finally, saying that the Islamic rules and orders are not against human rights, Ayatollah Sobhani said, "Considering the Heavenly verses, the man understands the holy Quran is the book commensurate with the true human rights, and not against them."
Rasa News Agency
N847/979
Please type in your comments in English.
The comments that contain insults or libel to individuals, ethnicities, or contradictions with the laws of the country and religious teachings will not be disclosed