Ayatollah Nouri Hamedani: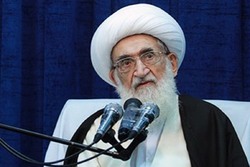 Ayatollah Nouri Hamedani, pointing to the part of the US and arrogant countries in striking wars and committing crimes against the nations, stressed the elaboration of the crimes committed by the false claimers of human rights across the world.
RNA - Ayatollah Nouri Hamedani has sent a message to the "International Conference of the American Human Rights as Deemed by the Supreme Leader". His message reads:
And what is [the matter] with you that you fight not in the cause of Allah and [for] the oppressed among men, women, and children who say, "Our Lord, take us out of this city of oppressive people and appoint for us from Yourself a protector and appoint for us from Yourself a helper?", Surat al-Nisa, Verse no. 75
Islam particularly emphasizes that the man is supposed to know his own front and associates. Quran repeatedly warns Muslims to not choose infidels, Jews and Christians as their friends.
Despite the orders of Islam, the rulers and heads of Muslim countries have ties with the US, Israel and non-Muslim countries, they even attack and kill Muslim destitute nations.
Indeed, true human rights are what introduced by Islam and Quran on the defense of the oppressed nations. Naming a week as the Week of American Human Rights [by the supreme leader] is a good opportunity for introducing the appalling crimes committed by the false claimers of human rights, those who as the supreme leader said, have a long history of committing such heinous crimes.
The US and its mercenaries committed several crimes against humanity, including a failed assassination attack against the supreme leader, martyring Ayatollah Beheshti and his colleagues, chemical strike of Sardasht in Kurdistan, targeting Iranian airliner, massacring Vietnamese people, killing and wronging the American Indians, attacking Afghanistan and killing Afghans under the pretext of curbing the drug trafficking, ruining Palestinians by its main ally, the Zionist Regime, toppling national and popular governments and establishing its own desired systems in more than 60 countries and etc. Nonetheless, following the targeting of their drone by Iran, they made the absurd claim that they called off the retaliatory attack against Iran as it would possibly kill 150 Iranians!
Americans have a long history of committing such despicable crimes, much longer than to be mentioned here. I deeply appreciate all the attempts made by the holders of the International Conference of American Human Rights, and pray God may provide them with good luck.
Rasa News Agency
N847/976
Please type in your comments in English.
The comments that contain insults or libel to individuals, ethnicities, or contradictions with the laws of the country and religious teachings will not be disclosed