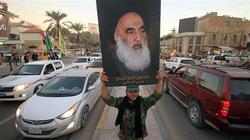 A group of Saudi Shia clerics have vehemently condemned the London-based and Riyadh-owned Asharq al-Awsat daily newspaper for insulting Iraq's most prominent Shia cleric Grand Ayatollah Ali al-Sistani.
Rasa - "The status … of religious scholars is a matter of consensus among all Islamic doctrines and divine laws, and Islam stresses the need for Muslims to safeguard the standing and sanctity," the clerics said in a joint statement released on Thursday.
"Ayatollah Ali al-Sistani, May God bless him, is a religious authority. He is a revered and respected personality for the Shia community in our country and elsewhere in the world," Saudi clerics said.
They added, "He is a source of rationality for the entire Iraqi nation, irrespective of their faiths and sects. He has had a leading role in stabilizing Iraq and defending its sovereignty, and his famous [July 2014] fatwa (religious decree) to stand against terrorism and terrorists greatly contributed to the protection of Iraq against division and bloodshed."
The clerics also denounced Asharq al-Awsat's insulting cartoon of the prominent cleric as "irresponsible, unethical, and contrary to the fundamentals of professional journalism."
"It is actually an act that provokes discord, and threatens the stability of our country and nurtures sectarianism," they pointed out.
The insulting cartoon has also been censured by Lebanon's Hezbollah resistance movement, which has emphasized that Ayatollah Sistani enjoys a sublime position in the hearts and minds of Muslims.
"Ayatollah Sistani has always preserved Iraq's safety, political stability and national unity," Hezbollah said in a statement released on Saturday evening, pointing to the fatwa issued by the top cleric, which called on all Iraqi citizens to defend their country shortly after Daesh unleashed its terror campaign in Iraq.
The fatwa helped Shia fighters, Sunni tribesmen as well as Christian and Izadi volunteers gather under the umbrella of the Popular Mobilization Units, commonly known as Hashd al-Sha'abi, to prevent Daesh's advances.
On Sunday, thousands of Iraqi protesters converged outside the gates of the heavily-fortified Green Zone in the capital, Baghdad, which is home to several embassies and government offices, including parliament and the prime minister's office, seeking to break into the Saudi embassy.
The participants demanded that the Iraqi government adopt a clear stance on the insult to the prominent religious figure. Security forces used tear gas to disperse the protesters who were trying to enter the area.
Please type in your comments in English.
The comments that contain insults or libel to individuals, ethnicities, or contradictions with the laws of the country and religious teachings will not be disclosed