Hujjat al-Islam Khosropanah: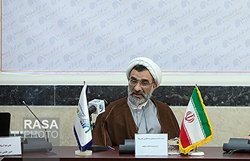 Referring to the narrations and answers to some doubts in this Imam al-Mahdi, a teacher of philosophy and theology emphasized that the world government of Imam al-Mahdi contradicts the idea of secularism and the Imam's justice is pervasive in all fields.
RNA – In an exclusive interview with Rasa News Agency, Hujjat al-Islam AbdolHoseyn Khosropanah, a member of the faculty of the Department of Philosophy and Theology of the Institute of Islamic Culture and Thought, offered his congratulations on the joyous birth anniversary of Imam al-Mahdi and discussed the Mahdist government and politics and stressed that the Mahdist government will be in stark contrast to secularist thought.
The university professor said, "Mild secularism is content to limit religion to individual and personal needs but it also separates any social needs such as politics, government, economics, law, social ethics, education and management from religion and if this thought is objectively realized in society, secularization and materialism will also occur."
Hujjat al-Islam Khosropanah emphasized that the theory of secularization and the separation of religion from the needs of the world isn't compatible with any of the fields of Islam and said, "The history of Islam and the practical lifestyle of the Holy Prophet and the Infallible Imams are in stark contrast to secularism and Islamic laws in the fields of economics, law, politics, management, ethics, education and so on also refute this claim."
His Eminence added, "On this same basis, the reformed world government also has an anti-secular nature because the uprising of Imam al-Mahdi will accompanied by the formation of a religious government and an Islamic state, and the Imam will go through many wars, not just to achieve a government, and the government will face the enemies with full determination."
He emphasized, "Also, the Prophet Muhammad said in this regard, 'I announce to you the advent of the Mahdi. He will fill the earth with justice just as it's filled with oppression. The inhabitants of the heavens and the inhabitants of the earth will be satisfied with him and he will distribute property and wealth properly.'"
Hujjat al-Islam Khosropanah continued, saying "Someone asked, 'What is the meaning of the correct division of wealth?' He said, 'By dividing it equally among the people.' (Then he said) 'And by filling the hearts of the followers of Muhammad with needlessness and his justice pervades everyone to the point that he commands a preacher with a loud voice, everyone who is in financial need rises up. No one rises except one person and the Imam orders a considerable amount of money to be given to him but he takes it and returns it and regrets it.'"
Rasa News Agency
112/978
Please type in your comments in English.
The comments that contain insults or libel to individuals, ethnicities, or contradictions with the laws of the country and religious teachings will not be disclosed