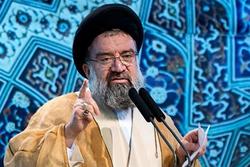 Tehran's provisional Friday Prayers Leader Ayatollah Seyed Ahmad Khatami deplored Turkey's so-called Operation Peace Spring in Northern Syria as an "act of aggression", and called on Ankara to retreat from its positions or face undesirable consequences.
RNA - Addressing a large and fervent congregation of the people in Tehran on Friday, Ayatollah Khatami said, "Turkey's measure is an aggression against an independent country."
"The Islamic Republic's stance [on Turkey's operation] is an advising one; Iran asks for stopping this operation and withdrawing military forces from the Syrian soil," he added.
The senior cleric advised Turkey to not be deceived by Americans like the case of Saudis, and said, "Saudi Arabia, as the servant of US, took America's advice and got stuck in a quagmire; they sought to achieve their aim in Yemen in a week but now, after seven years, Yemeni warriors have the upper-hand."
Ayatollah Khatami said that Turkey should be careful not to stumble into America's trap; as soon as America withdraws its forces from Northern Syria, Turkey replaces its forces in their place; be careful not to build a new quagmire for yourself.
Turkish President Recep Tayyip Erdogan said on Wednesday that his country's military forces and the Turkish-backed militants of the so-called Free Syrian Army (FSA) had launched a long-threatened offensive in northeastern Syria against Kurdish militants from the People's Protection Units (YPG) to push them away from border areas.
"Operation Peace Spring will neutralize terror threats against Turkey and lead to the establishment of a safe zone, facilitating the return of Syrian refugees to their homes," Erdogan wrote in a post published on his official Twitter page.
Syria's state-run television reported that the Turkish army launched the operation in the country's North by carrying out an airstrike on the city of Ras al-Ayn in the northeastern province of al-Hasakah.
European countries expressed outrage at Ankara's military operation against the Kurdish militias in Northern Syria as Washington continued silence over the massive air and ground assault the United States' long-time ally in the so-called anti-terror campaign against the Islamic States of Iraq and Levant (ISIL or ISIS) in the Arab country.
The United Nations, the European Union and other world powers had expressed alarm over the Turkish plan, warning that any military action could exacerbate the suffering of Syrians already beleaguered by eight years of conflict.
European Commission President Jean-Claude Juncker urged Turkey to halt its military operation and warned the European Union would not help finance the creation of any "safe zone" in Northeastern Syria.
"I call on Turkey as well as on the other actors to act with restraint and to stop operations already, as we are speaking, underway," Juncker told EU legislators.
The EU is paying Turkey more than $6bln to help the country cope with millions of Syrian refugees hosted on its territory in exchange for stopping migrants leaving for Europe. However, Ankara is seeking more money amid concerns that thousands of Syrians could soon cross its border.
Berlin strongly criticized the Turkish offensive in Syria, saying that by launching a military operation, Ankara is risking to destabilize the situation in the region.
Turkey "is willingly risking further destabilizing the region and a resurgence of IS [known as ISIL or ISIS]" by attacking Northeastern Syria, German Foreign Minister Heiko Maas stated.
"Syria needs stability and a political process... however, the Turkish offensive now threatens to cause a new humanitarian disaster," Maas announced in a statement, adding that Berlin would "urge Turkey to end its offensive and to pursue its security interests peacefully".
Paris, for its part, strongly condemned the Turkey's move, calling a UN Security Council meeting with Britain and Germany.
France's European Affairs Minister said on Wednesday that France, Britain and Germany had called for the United Nations Security Council to meet to discuss the Turkish offensive in Northern Syria.
Speaking to the parliamentary foreign affairs committee Amelie de Montchalin stated that the three countries were also finalizing a joint statement to "strongly condemn" the Turkish offensive, but added that a separate EU statement had yet to be agreed because some countries had not signed up to it.
Belgian Ambassador to the United Nations Marc Pecsteen de Buytswerve told reporters that the United Kingdom, France, Germany, Poland and Belgium will request the UN Security Council to convene a meeting on Thursday morning to discuss the Turkish military operation in the North of Syria.
"The EU5 [France, Germany, the United Kingdom, Poland and Belgium] will ask the meeting probably tomorrow morning," Buytswerve noted on Wednesday.
NATO Secretary-General Jens Stoltenberg also noted that the bloc has been notified of the Turkish operation, stating that Ankara does have "legitimate security concerns".
"I am ensured that any action it may take in Northern Syria is proportionate and measured," he said after meeting Italian Prime Minister Giuseppe Conte, adding, "It is important to avoid actions that may further destabilize region, escalate tensions and cause more human suffering."
The official called on the Turkish authorities to ensure that their actions in the Middle Eastern country are proportionate.
Conte also noted that Turkish operations in Syria risk destabilizing the region and harming civilians.
847/940
Please type in your comments in English.
The comments that contain insults or libel to individuals, ethnicities, or contradictions with the laws of the country and religious teachings will not be disclosed