Hujjat al-Islam Shams in an interview with Rasa: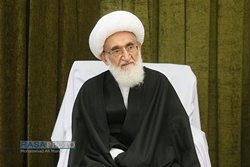 Ayatollah Nouri-Hamadani allowed half of the Imam's share of khums to be spent on preventing, treating, and caring for families with the Coronavirus and those who have died due to it if needed.
RNA – In an exclusive interview with Rasa News Agency, Hujjat al-Islam Mohammad-Hoseyn Shams, the director of the office of Grand Ayatollah Hoseyn Nouri-Hamadani, referred to Ayatollah Nouri-Hamadani's emphasis on the need to pay attention to the instructions of medical and health officials in regard to the spread of COVID-19 (Coronavirus) in Iran.
As stated earlier, the revered source of emulation, while praying for the healing of all of the sick and emphasized the need to comply with medical instructions observe the health recommendations.
Hujjat al-Islam Shams added, "He also recommended reciting the Holy Quran and reciting supplications and resorting to the Prophet Muhammad and the Infallibles, especially the Imam of the Time (Imam al-Mahdi)."
He added that Ayatollah Nouri-Hamadani has given permission for half of the Imam's share of the khums tax to be used for the treatment and fight against Coronavirus and added, "Ayatollah Nouri-Hamadani has allowed half of the blessed Imam's share to be spent on preventing, treating and caring for families who have contracted this illness and those who have died if needed."
Hujjat al-Islam Shams also cited Ayatollah Nouri-Hamadani's opinion regarding Coronavirus and the ghusl (ritual washing) and burial of the bodies of the dead and said, "In response to the question on the burial and washing of the dead , His Eminence said that the bodies should be washed and shrouded as much as possible and prayers definitely must be performed."
Coronavirus emerged in the central Chinese city of Wuhan late last year, and has claimed more than 3,000 lives worldwide so far.
In Iran, it first showed up in the north-central city of Qom. By March 4th, the country reported 92 fatalities, and 2,922 cases of infection.
Iran has mobilized all its resources to tackle the issue, including increased production and import of hygiene and protective data-x-items as well as enforcing diagnostic measures across the nation.
Rasa News Agency
112/979
Please type in your comments in English.
The comments that contain insults or libel to individuals, ethnicities, or contradictions with the laws of the country and religious teachings will not be disclosed