Teacher in the Islamic Seminary of Qom: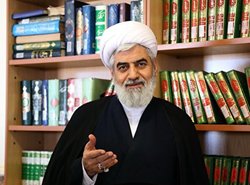 Referring to the concept of Godwariness in the Holy Quran and religious teachings, Hujjat al-Islam Heydarifar emphasized that speakers, eulogists and mourners must observe Godwariness in their mourning and the rights of others during the time of mourning.
RNA – In a speech before the Friday prayer sermon at Qom's Quds Prayer Hall, Hujjat al-Islam Majid Heydarifar, a teacher in the Islamic Seminary of Qom, referred to the concept of taqwa or Godwariness in the Holy Quran said, "Godwariness doesn't mean 'fear' but rather it means to protect, guard and be vigilant."

His Eminence stated that God Almighty is the embodiment of mercy and love and said, "Man must bond with God Almighty and gain familiarity and not fear God and flee from Him. We must be vigilant of divine blessings."

He continued, "Being vigilant is the meaning of Godwariness. We must take care of our thoughts, minds and organs so that we don't become polluted. Also, we must protect the rights of others so that the rights of others aren't violated."
Hujjat al-Islam Heydarifar said that the Prophet Muhammad introduced Imam al-Husayn as the ornament of the heavens and earth and added, "The Prophet stated that Imam al-Husayn is the 'light of guidance and the ship for the salvation of the Ummah' and those who mourn must observe the Godwariness of mourning."
His Eminence said, "The meaning of Godwariness in mourning is that the sound of mourning and movement doesn't disturb others. If mourning disturbs others, it's incompatible with the Godwariness in mourning and observing the rights of citizens must be on the agenda of all."

He noted "Speakers and eulogists must be Godwary and not mix truth and falsehood but rather they must present documented information. They must not seek to say anything just to make the people cry. In a meeting with eulogists, the Supreme Leader of the Islamic Revolution [Ayatollah Khamenei] said not to scream in order to obtain cries and replies."

Hujjat al-Islam Heydarifar described mourning a symbol of the dignity and glory of the Islamic Revolution and Islam and added, "The late Imam Khomeyni said that the months of Muharram and Safar have kept Islam alive and we must observe Godwariness in mourning and respect the rights of others."
Rasa News Agency
112/978
Please type in your comments in English.
The comments that contain insults or libel to individuals, ethnicities, or contradictions with the laws of the country and religious teachings will not be disclosed