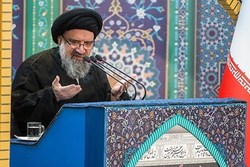 Tehran's provisional Friday Prayers Leader Ayatollah Seyed Ahmad Khatami lauded the stances adopted by Supreme Leader of the Islamic Revolution Ayatollah Seyed Ali Khatami vis-à-vis US President Donald Trump's anti-Iran policies.
RNA - Addressing a large and fervent congregation of the people in Tehran on Friday, Ayatollah Khatami said, "The statements by the Supreme Leader in his meeting with Japanese Prime Minister Abe Shinzo on negotiating with the US were wise, subtle and clever."
"We clearly understand from Supreme Leader's remarks that the US rulers and the triangle of evil do not know anything about sincerity and being humble to negotiate," the senior cleric said.
In a Thursday meeting with Abe, Ayatollah Khamenei strongly rejected talks with the United States, and told the visiting Japanese premier that he doesn't see Donald Trump as a party deserving to receive a message from Iran.
"I do not consider Trump, as a person, deserving to exchange messages with. We will not negotiate with the United States," the Supreme Leader stressed in the meeting in Tehran.
During the meeting, Japanese Prime Minister Abe Shinzo told Ayatollah Khamenei that "I would like to give you a message from the President of the United States".
Ayatollah Khamenei responded by pointing to the US ingenuity and untrustworthiness, and argued, "We do not doubt your sincerity and goodwill. However, regarding what you mentioned about the President of the US, I do not consider Trump as a person worth exchanging any message with and I have no answer for him, nor will I respond to him in the future."
"What I am going to say is part of our talks with the Japanese Prime Minister. Because we consider Japan a friend of ours. Although, there are some complaints," he added.
Ayatollah Khamenei referred to Abe's remarks that the US intends to prevent Iran's production of nuclear weapons, and said, "We are opposed to the nuclear weapons and my religious Fatwa bans production of nuclear weapons but you should know that if we intended to produce nuclear weapons, the US could do nothing and its non-permission was not an obstacle."
He also described stockpiling of nuclear weapons as an unwise measure, and said, "The US is not qualified at all to say which country should have or have not nuclear weapons because the US has several thousand nuclear warheads in its arsenals."
Referring to the Japanese prime minister that Trump told him that "the United States is not after regime change in Iran", the Supreme Leader insisted, "Our problem with the United States is not about regime change. Because even if they intend to pursue that, they won't be able to achieve it; just as previous US presidents tried to destroy the Islamic Republic of Iran during the past 40 years, and failed. What Trump says, that he is not after regime change, is a lie. For, if he could do so, he would. However, he is not capable of doing it."
Ayatollah Khamenei referred to the Japanese prime minister's remarks regarding the United States' request to negotiate with Iran about the nuclear issue, and said, "The Islamic Republic of Iran negotiated for 5 to 6 years with the United States and the Europeans — the P 5+1 — which led to an agreement. But the United States disregarded and breached this definite agreement. So, what common sense would once again allow negotiations with a state that has thrown away everything that was agreed upon?"
He pointed to the forty years of hostility that the US has showed to the Iranian nation and its continued hostility, and said, "We believe that our problems will not be solved by negotiating with the US, and no free nation would ever accept negotiations under pressure."
Ayatollah Khamenei then responded to remarks by the Japanese Prime Minister on how the Americans have always wanted to impose their own beliefs and views on other nations, and stated, "It is good that you acknowledge this fact, and you should also know that the Americans will observe no limits in imposing their views."
The Leader of the Islamic Revolution pointed to the process of negotiations with the US that led to the formation of the 2015 nuclear deal, and said, "After the nuclear agreement, the first person to immediately breach the JCPOA was Mr. Obama himself; the same person who had asked for direct talks with Iran and had also sent a mediator."
"This is our experience, and rest assured Mr. Abe that we will not repeat it," he underlined.
According to Fars News Agancy, Ayatollah Khamenei referred to the remarks made by the Japanese prime minister quoting Trump as saying that "negotiating with the US will help Iran progress", and said, "By God's grace, we will progress without negotiating with the US and despite the sanctions."
The Leader of the Revolution welcomed the Japanese prime minister's suggestion of expanding relations between Japan and Iran, and reminded, "Japan is an important country in Asia, and if they are willing to expand relations with Iran, they should prove their sincere willingness -- just as some important countries have shown their interest."
Abe arrived in Tehran on Wednesday afternoon.
Before holding a bilateral meeting with the Iranian Leader, he attended talks and pursuing joint press conference with Iranian President Hassan Rouhani.
During the press conference, President Rouhani slammed the US sanctions on his nation as an act of terrorism and "root cause of tensions in the region", and told the visiting Japanese Prime Minister that Iran would continue with modifying its undertakings under the nuclear deal if it remains the only party complying with its terms.
Rouhani also noted the age-old ties between the two countries and appreciated the Japanese premier for giving a positive response to his invitation to visit Iran.
He further praised constructive ties and consultations with Japan in the past several years, and stressed that Tehran welcomes cooperation with Japan at all the bilateral, regional and international levels.
"We discussed investment in Iran's Southern port city of Mahshahr and the port of Makran," Rouhani said, and added that Japan's willingness to continue buying crude from Iran ensures stability in growing ties between the two countries.
"We welcome Japan's interest to continue purchasing Iran's crude and settle financial ties between the two countries," he said.
"In addition to bilateral ties, we also discussed regional security and detente," Rouhani said, and voiced pleasure in the two countries' interest in regional stability.
The president ensured his state's policy has been built on peace and security at regional and global stage, but meantime, indicated that Tehran is fully prepared for all scenarios, implying that it would definitely not sit idly if it comes under attack by the US.
"I ensured Mr. Prime Minister we will not initiate any war with any country in the region, but if war is imposed on us, we will give a decisive response," the Iranian president reiterated.
"Mr. Abe voiced optimism in the present conditions and said he knows that prospects are bright," he added.
President Rouhani praised Japan's support for the Joint Comprehensive Plan of Action (JCPOA), and said he has informed the Japanese premier that Iran is resolved to continue the present path of modifying its undertakings under the nuclear deal based on the contents of "Paragraphs 36 and 37" if the merits promised by the signatories to Tehran are not provided.
The president slammed Washington's sanctions on Tehran and said, "I told Mr. Prime Minister that the sanctions imposed on Iran are a clear instance of economic terrorism."
"Tensions in the region are rooted in the United States' economic war against Iran," the Iranian president reiterated.
Yet, he appreciated Japan's goodwill and care for regional security and stability, and asked for expansion of nuclear cooperation with Tokyo for peaceful purposes.
The Japanese premier appreciated Iran's warm hospitality during the visit, and said he had wished to visit Tehran all throughout the last three decades after he accompanied his father, the then foreign minister, during a visit to Tehran.
Noting that this is the first official trip to Iran by a Japanese prime minister after 41 years, he expressed strong willingness to expand cooperation with Tehran in various areas, including medical grounds.
The Japanese premier further voiced concern over instability in the region, and said his country is willing to help to deescalate the present tensions.
Abe appreciated the religious Fatwa issued by Iran's Supreme Leader Ayatollah Seyed Ali Khamenei that has placed strong religious ban on the acquisition, production, stockpiling and use of the Weapons of Mass Destruction, and voiced pleasure in Iran's full compliance with the nuclear deal.
He failed to note the US sanctions and military threat to Iran by the deployment of thousands of troops in and around the Persian Gulf, and asked Iran to help him advance his mediation efforts.
Abe, heading a high-ranking politico-economic delegation, arrived in Tehran on Wednesday on a three-day visit to discuss bilateral ties and cooperation. According to Japanese media, mediation between Iran and the US is on his agenda.
The visit comes more than one year after Washington's abrupt withdrawal from the landmark nuclear deal that led to the lifting of economic sanctions on Iran. Japan is not a member of the deal but has been a supporter.
Before making the trip official, Abe and Trump had a phone conversation on Tuesday about the Japanese prime minister's trip to Tehran.
The US president's anti-Tehran top aide, Secretary of State Mike Pompeo, has recently claimed that Washington is ready to engage in talks with the Islamic Republic without preconditions, and his boss has reinstated harsh economic sanctions against Iran to force Tehran back to the table - a desire that has not yet come to reality. Washington has also escalated America's military presence in the Persian Gulf - recently sending an aircraft carrier group, a squadron of B-52 bombers and additional Patriot air defense systems as a "message" to Iran. Trump claimed that the United States is not seeking armed conflict with Tehran, calling for negotiation with Iran to reach a new deal. The US president also introduced sanctions on third countries that would do business with the Islamic Republic. Dependent on Iranian oil, Japan is one such country.
In May, Iran announced it was suspending some of its commitments under the nuclear deal, setting a 60-day deadline for the five remaining parties to the deal — France, Germany, the UK, China and Russia — to take practical measures towards ensuring Tehran's interests in the face of the American sanctions.
847/940
Please type in your comments in English.
The comments that contain insults or libel to individuals, ethnicities, or contradictions with the laws of the country and religious teachings will not be disclosed