Seminary Researcher Explains:
Rasa – The head of the Islamic Centre of South Africa stressed on the fact that Husayn Insight is key to distinguish the righteous from the corrupt, he added, "Practical struggle with the arrogant powers of the world is in line with Imam Husayn's movement."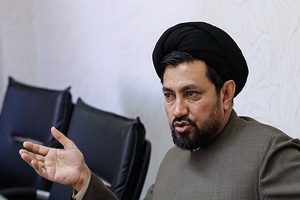 RNA – In an interview, Hujjat al-Islam Sayyed Abdollah Hoseyni expressed his condolences on the martyrdom anniversary of Imam Husayn and said, "The battle between the righteous and the misguided has always existed throughout history, and one of the most tragic battles in this sense were the events which took place in Karbala and on the day of Ashura that serve as a milestone for humanity even up to this date."

He then went on to say that all human beings, with every religious or cultural background, are either with the righteous or the misguided and added, "Basically there's no neutral attitude in this case and one cannot claim he or she is partially with the righteous front yet at the same time they also support the opposite side, so there's no neutral position taking in this regard, as all the neutral individuals are considered as the misguided ones."

Supporting the righteous front, necessary condition to follow Imam Husayn

Hujjat al-Islam Hoseyni who is also an epic poet further reiterated that if we defend the oppressed in the face of the oppressor, in fact we're following the righteous' path and that of Imam Husayn's, "Keeping silent about the tyranny of the oppressor is against the movement of Imam Husayn and His Eminence's values. One who claims he is a follower of Imam Husayn's doctrine cannot take a neutral and passive positions regarding such conditions since humankinds are of two categories, either they are with the righteous or they are misguided."

"That's why we need to follow Imam Husayn's path, the path of the righteous front which leads to our felicity, when one adheres to Imam Husayn's doctrine, it's like they are onboard a rescue ship which will get them to their final destination," the head of the Islamic Centre of South Africa concluded.
112/940
Please type in your comments in English.
The comments that contain insults or libel to individuals, ethnicities, or contradictions with the laws of the country and religious teachings will not be disclosed