Service :
02 May 2019 - 04:28
News ID:

444645
Expert: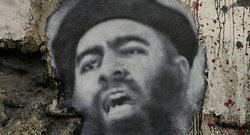 A senior Iraqi expert said reappearance of ISIL ringleader Abu Bakr al-Baghdadi in front of the cameras after five years is aimed at justifying the US military deployment in Iraq.
RNA - Hamad al-Dulaimi told the Arabic-language al-Arabi al-Jadid news website that the Iraqi parties which favor the US continued deployment in Iraq are much likely to make use of al-Baghdadi's move to magnify potential threats by the ISIL.
He added that the US is the first to misuse al-Baghdadi's reemergence politically and as an emphasis on its recent warnings about the danger of ISIL and importance of its forces' presence in Iraq.
Al-Arabi al-Jadid also quoted Iraqi officials as saying that al-Baghdadi has come into sight again as Iraqi security forces are running operations to cleanse Jabal Hamrin mountains and some regions of al-Anbar desert from terrorists, adding that the ISIL cells are now in their weakest conditions since the freedom of Mosul and after they were stranded in desert areas.
Al-Baghdadi in a new video message released after five years threatened to take revenge of the killed and jailed members of the terrorist group.
The ISIL terrorist group released an 18-minute video message of Abu Bakr al-Baghdadi in which he has threatened to continue his terrorist activities.
Al-Baghdadi was seen with three masked militants while the ISIL ringleader pointed to the ISIL's exit from Baqouz region in Eastern Deir Ezzur and reiterated that the Baqouz Battle had ended.
Abu Bakr al-Baghdadi also said that he would take revenge of his killed and captive militants, adding that the ISIL had conducted 92 terrorists operations in eight countries to take revenge of its killed and captured members in al-Sham region.
The ISIL ringleader also claimed that the Easter blasts in Sri Lanka had been carried out in line with ISIL's revenge for Baquouz battle.
The newly-released video of Abu Bakr al-Baghdadi was the first since the last one released in Iraqi Mosul's Nour Mosque in 2014.
On Saturday, Russian media reports claimed that al-Baghdadi was in Syria's Badiyeh (desert) region, attempting to cross the border into Iraq.
The Arabic-language service of RT news channel quoted an Iraqi intelligence source as saying that al-Baghdadi was at present hiding in Abu Rajmin mountain near Syria's Palmyra region in Homs province.
He added that the ISIL leader wants to cross the border into Iraq in the next few weeks, noting that he has already made several unsuccessful attempts due to the tight security measures at the border.
The report said captured ISIL terrorists have leaked during interrogations that al-Baghdadi has been left with a small number of Saudi, Tunisian and Iraqi militants who are still loyal to him.
Security experts said al-Baghdadi is likely trying to join the ISIL terrorists who have been transferred by the US from Syria to Iraq.

16:50 - 2019/11/04
Please type in your comments in English.
The comments that contain insults or libel to individuals, ethnicities, or contradictions with the laws of the country and religious teachings will not be disclosed