Hujjat al-Islam Qawouq:
Rasa – In support of Lebanon's president, the vice-president of the Executive Council of Hezbollah said, "The US, the Zionist regime and Saudi Arabia are blocking the formation of a government in Lebanon."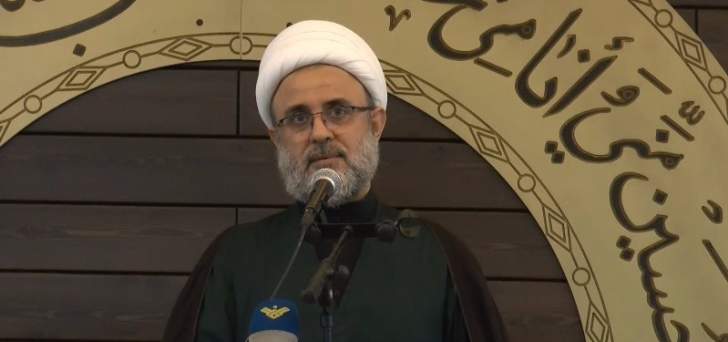 RNA – Speaking during a ceremony held in the husayniyah of the southern Lebanese village of Ma'rakeh al-Janoubiyeh, Hujjat al-Islam Nabil Qawouq, the vice-president of the Executive Council of Hezbollah, emphasized upon the relationship between Syria and Lebanon and said, "Relations between the two countries have never been an obstacle to the formation of a government in Lebanon and some individuals have created these obstacles in order to escape from their admission of helplessness and defeat and the exposure of the identity of those who have hampered this process."
The Lebanese Shi'ah cleric added that Hezbollah supports the efforts of Lebanese President Michel Aoun to form a national unity government and eliminate obstacles because this is in the interests of the people of this country.
Hujjat al-Islam Qawouq stated, "The position of Hezbollah and the Amal Movement is to form a defined government and always seeks to pave the way for this and just as we have been together in politics and with the Islamic Resistance, we will be together in the field of development."
He continued, "The Zionist occupation regime, the United States and the Saudi regime are strongly opposed to any action that strengthens Lebanon and the Islamic Resistance Front and on this basis, the formation of a government has faced serious challenges to date."
The senior member of Hezbollah emphasized that the lack of formation of a government is not in the interest of the Lebanese people and threatens the political, social and financial stability of the country.
It should be noted that Lebanon's first parliamentary vote in nine years was held on May 6 and the current Prime Minister Sa'ad al-Hariri, with 111 votes from the members of the parliament, was commissioned to form a cabinet on May 24 despite the fact that various meetings were held to form the government but the main obstacle for the delay in the formation of the cabinet was the divisiveness among the parties over ministerial quotas.
Hezbollah as well as groups and individuals affiliated to it won at least 67 seats in Lebanon's parliament, according to the results cited by politicians and campaigns and reported in Lebanese media.
Rasa News Agency

Please type in your comments in English.
The comments that contain insults or libel to individuals, ethnicities, or contradictions with the laws of the country and religious teachings will not be disclosed