Chairman of Hezbollah's Executive Council:
Rasa – Hujjat al-Islam Safiuddin described the crimes of Myanmar and Saudi Arabia, saying, The Al Saud are far more dangerous than the racist government of Myanmar."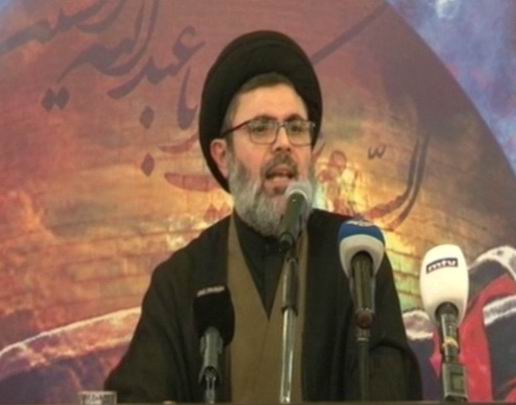 RNA – Speaking at a Muharram mourning ceremony commemorating the martyrdom of Imam al-Husayn in the southern Lebanese city of Tyre, Hujjat al-Islam Sayyid Hashim Safiuddin, the chairman of the Executive Council of the Lebanese Islamic Resistance group Hezbollah, said that Zionists are very afraid of any war with Hezbollah and said, "They know well that they are not capable of ending a foolish war in such a way that would benefit them and this is obvious in the statements of the Zionist authorities."

The Lebanese Shi'ah scholar described the Zionist maneuvers as useless and added, "With every new war against Lebanon, they are facing a far more aggressive response and the Zionists will once again experience a new taste of failure and they will no longer be able to stand."

Hujjat al-Islam Safiuddin said, "We defeated the Takfiris and liberated our homeland and we are moving towards victory in Syria and Iraq. Daesh and the al-Nusrah Front are on the verge of destruction and decline and all the plans and wishes of the United States and Saudi Arabia are going with them."

He emphasized that if the enemies suppose that they are capable of destroying the Islamic Resistance, they are making a grave mistake and even in exceptional circumstances, their hands will not never reach the Islamic Resistance, even if all assets are allocated, all sanctions are imposed and all media resources are used against them.

His Eminence also reacted to the oppression against the people of Bahrain and Yemen, saying, "It is certain that this oppression will end because the people are patient, persevering and self-sacrificing and the Saudis who are killing the Yemeni and Bahraini people only have the specialty of defeat and failure. Just as the caliph Yazid and the Umayyad dynasty ended, the era of the Al Saud is also at the end of the line."

The senior Hezbollah official considered Ashura as a symbol of assistance for the oppressed against the oppressors and stated, "We also stand with the oppressed people of Myanmar and condemn the silence of the world in the face of the racially motivated crimes in this country. But the important thing is that the government of Myanmar displaced 500,000 Muslims and killed 1,000 others but Al Saud has sent more than 20,000 Muslims to death and displaced millions of others."

Hujjat al-Islam Safiuddin said, "One million Muslims also suffered from the crimes of the Al Saud and have been afflicted dangerous and deadly disease of cholera. For this reason, it can be said that the Al Saud are more dangerous and worse than the racist government of Myanmar."

112/930/436
Please type in your comments in English.
The comments that contain insults or libel to individuals, ethnicities, or contradictions with the laws of the country and religious teachings will not be disclosed