Sheikh Naeem Qasim:
Rasa - deputy secretary general of Lebanon's Hezbollah stressed that Syria and Iraq will be completely cleared of terrorists in less than a year.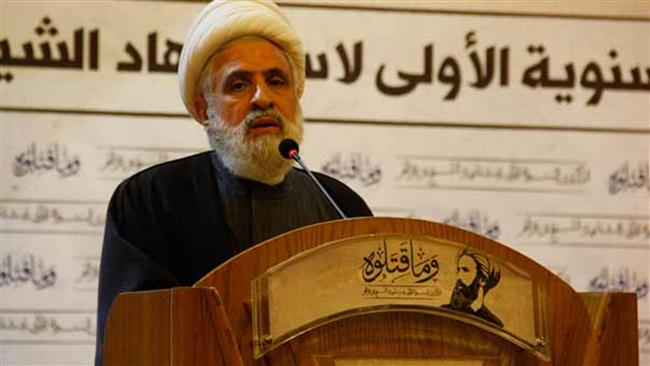 RNA – Hezbollah's deputy secretary general, Sheikh Naim Qassim, at the commemoration ceremony of two martyrs, said: "We are on the anniversary of abduction of Imam Musa al-Sadr from the scene of jihad. He is one of the symbols of real resistance, jihad and nationalism and Islam. Imam Musa Sadr was the Imam of the Mujahideen and founder of the resistance in Lebanon, and Lebanon today is blessed with the blessing of the resistance and jihad of these forces."
Lebanon's security due to the establishment of resistance by Imam Musa Sadr
He described resistance as a factor in Lebanon's strength, adding that Lebanon's security and stability are also owed to the noble forces of resistance at various positions, and Imam Musa Sadr has also started training Mujahedin with the clear slogan of "Quds should be liberated by noble believers." When we saw the authenticity of our actions in the resistance and fights of Israel, we came to a definitive conclusion, and the blood of Mujahedeen of Hezbollah and the movement of Amal and all the powers that stood against the Zionist regime were merged to make this great victory.
Sheikh Naim Qassem stated regarding "some groups that are claiming that Shi'ism and resistance are being hoarded by Hezbollah and the Amal movement" saying: "Efforts have been made to destroy the relations between Hezbollah and Amal, but Seyyed Hassan Nasrallah and Nabih Berri, as leaders of these two movements, have been strongly standing against these conspiracies."
Hezbollah's relationship with Amal very deep
"We are jointly in the scene and, on this basis, we are seeing very deep relations between Hezbollah and Amal; these relations are so extensive that it is sometimes difficult for the people to recognize these two flows from one another," he said. "We are proud of the strategic alliance with Amal and we say to those who are striving divide the two movement that there is no division between us and that we will be on a single list in the upcoming parliamentary elections."
Senior Hezbollah member, pointing out that "the equation of the army, nation and resistance goes beyond the slogan. This equation is a description of the present facts, which is apparent in all achievements. This equation is a factor in strengthening Lebanon, and denial of others can not affect it. As long as the Zionist threat exists, we exist in Syria and we will continue fighting as long as this Takfiri-Zionist-American conspiracy disappear and security return to Syria.
"Lebanon's peace depends on that of Syria" he said adding "Lebanon and Syria have been a center of resistance against an enemy, and the victory over the terrorists has been a source of concern for the Zionists, and this is apparent in Zionist media. The enemy, unable to change this fact, cries out but nobody cares about it."
Opponents of resistance to die a hundred times a day
Sheikh Naim Qassem estimated "ISIL's complete defeat in Iraq and Syria to take less than a year", saying: "Resistance supporters should not be affected by the words of those who do not tolerate the victories of honorable people [of Lebanon]. Some in Lebanon are still in support of Zionist occupiers, and do not tolerate the victory of the forces of the resistance, and thus they will not be happy with the defeat of the Takfiris because they believe that the Takfiris are capable of destroying the resistance."
Pointing out that "wild terrorists are also a threat to the children of opponents of resistance", he stressed: "They are ready to put their children and their families at risk, but never see the victory of resistance front. But we are happy and at the height of peace, because our views and positions were right from the beginning. We emphasized that Israel would leave Lebanon with the means of resistance, but they were saying that it would be possible to withdraw the Zionist regime from Lebanon with diplomacy."
"This diplomacy lasted for 22 years, but only with resistance we were able to expel the Zionists in 2000 to get the biggest victory and achievement in the region," Hezbollah's deputy secretary general added.
"In Syria, the same trend was taken," he said "and contrary to the claims of some, we believed that the war was aimed at destroying Syria and turning it into Zionist Syria."
He noted the gathering of Takfiris from 80 countries into Syria and provide of widespread financial, arms and spiritual support to the terrorists, saying that no group dared to stand against the Takfiris [at first], but the axis of resistance started its jihad and sacrifice in order to return Syria to the resistance front. These groups have always been telling people that the Syrian crisis will also be transmitted to Lebanon, but the true children of Lebanon stood against this problem, and Lebanon's security and stability remained as always despite the six-year crisis in Syria.
Sheikh Naeem Qasim considered the unity of Lebanon's army, resistance and support of the nation "a great honor and pride", and stated: "an army that is far from its nation and resistance cannot win. We are grateful to the Lebanese army, which ignored US orders to not fight ISIS and defeated the terrorists.
995/930/907
Please type in your comments in English.
The comments that contain insults or libel to individuals, ethnicities, or contradictions with the laws of the country and religious teachings will not be disclosed