The head of the Association of Iraqi Scholars:
Rasa – Shaykh Khalid al-Mulla, an Iraqi Sunni scholar, has said that by supporting Daesh Takfiri terrorists, Saudi-sponsored terrorism has unleashed a river of blood in Iraq.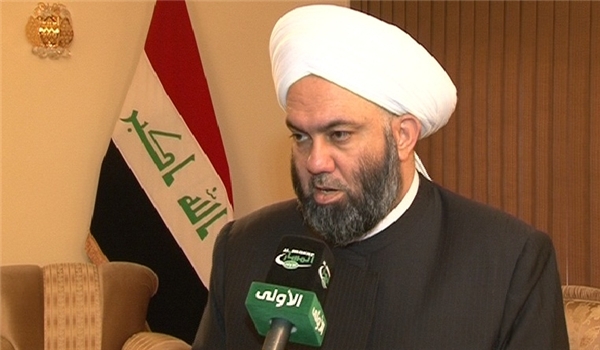 RNA – Shaykh Khalid al-Mulla, the chairman of Association of Iraqi Scholars, reacted to the statements made by Adel al-Jubayr, the Saudi Foreign Minister, in regard to the involvement of the Popular Mobilization Forces in the liberation of Mosul.
The Popular Mobilization Forces are an Iraqi state-sponsored umbrella organization composed of some forty militias, which are mainly Shi'a Muslim groups, but there are Sunni Muslim, Christian, and Yazidi groups as well.
Speaking at a press conference in London, al-Jubayr criticized the participation of the Popular Mobilization Forces in the liberation of Mosul, saying, "We oppose any kind of involvement by the Shi'a militias" and warned against a repeat of the events in Fallujah where Daesh was chased out of in June, saying they would create a bloodbath in Iraq.
"You who have created a bloodbath in Iraq, not the Popular Mobilization Forces," he replied.
The most prominent Sunni Muslim cleric in Baghdad described Saudi Arabia's statements against the Popular Mobilization Forces as "unimportant" and said they do not mean anything to us because the Popular Mobilization Forces stand alongside the Iraqi army.
Shaykh al-Mulla said that "Operation Fatah" to liberate Mosul will result in the unity of the Iraqi people of all sects from the north of the country to the south and stressed that this "critical" operation will fully end the life of the Daesh Takfiri terrorist group in Iraq and will also end their sectarian schemes in the war-torn Arab country.
"Soon all areas of Nineveh Governorate will be freed," he added.
He said those who seek to divide Iraq, separate Nineveh Governorate from Iraq and establish a Sunni-majority state there are the same people who support Daesh and allowed them to enter into Iraq.
112/930/285
Please type in your comments in English.
The comments that contain insults or libel to individuals, ethnicities, or contradictions with the laws of the country and religious teachings will not be disclosed