Qom Friday Prayer Leader:
Rasa – Ayatollah Arafi said that the most important message of Ashura is the rejection of secularism and referred to the incorrect ideologies of "London Shi'ism" and "American Islam" and stressed that we cannot ignore the political and revolutionary aspects of Ashura.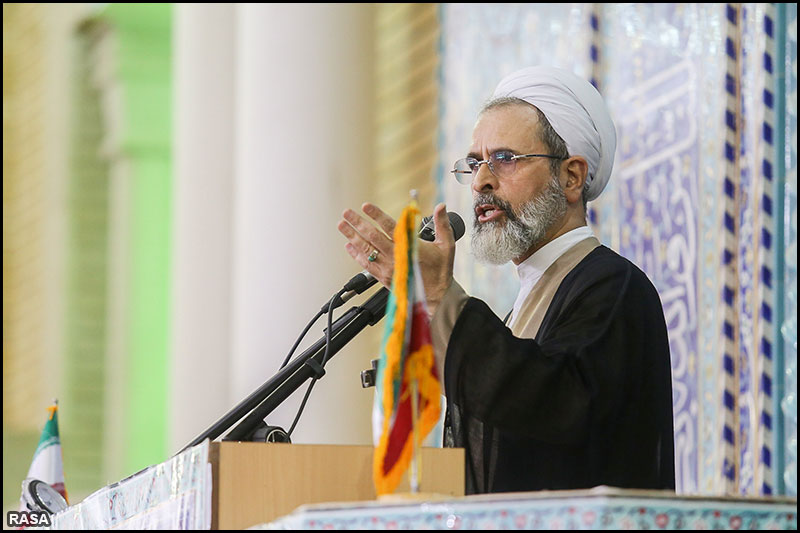 RNA – During his Friday prayer sermon to a large and fervent crowd of believers in Qom's Qods Prayer Hall, Ayatollah Ali-Reza Arafi pointed to the arrival of the solemn month of Muharram, which begins on October 2, and said, "Ashura is a pure gem and is not only for the current era but rather its illumination goes beyond the current generation and will remain for future eras and generations."
In regard to Muharram mourning rituals, the head of the Islamic Seminaries of Iran stressed that we must avoid superstition and actions which weaken religion and added that the most important message of Ashura is its connection with religion and politics, the rejection of secularism and the avoidance of selective politics, lest a form of mourning be promoted which is outwardly reverent but its spirit is empty of the political aspects of the epic of Ashura.
He said that from the perspective of "London Shi'ism" and "American Islam," this secular perspective is correct and stressed, "Is it possible for Ashura to exist without a political and revolutionary spirit?"
Ayatollah Arafi said, "Certainly this perspective must be reflected upon," and added, "Our nation looks at the current events occurring in Bahrain, Yemen and Syria and the resistance against the Zionist entity and the imperialist powers from the perspective of Ashura."
"In Iran and throughout the world, we must remain on the path of Ashura and raise the flag of resistance and shout the slogan of Muharram, 'Woe unto the Wretched!'" the head of al-Mustafa International University said.
The member of the Society of Seminary Teachers of Qom stated that Ashura is tied to the command of "enjoining the good and forbidding the wrong" and added that enjoining the good is the spirit, philosophy and key of Ashura.
He added that in his various speeches, the late Imam Khomeini said that the truth of Ashura is summarized in the slogan of enjoining the good and forbidding the wrong and is the duty of all people, the government and the leaders.
"The people should rise against the corruption based on logic and correct principles," he added.
Ayatollah Arafi expressed concern by the Islamic Seminary and religious leaders over the situation of the Muslims in Syria, Yemen and Bahrain, in particular the situations of Ayatollah Isa Qasim and Shaykh Ibrahim Zakzaky and added, "The nations and governments must know that Iran and the Islamic Resistance Front are sensitive with respect to the situation facing these resistance leaders."
112/930
Please type in your comments in English.
The comments that contain insults or libel to individuals, ethnicities, or contradictions with the laws of the country and religious teachings will not be disclosed