Rasa – Hujjat al-Islam al-Qubanchi condemned the presence of American troops in Iraq on the pretext of securing and monitoring the upcoming Iraqi parliamentary election.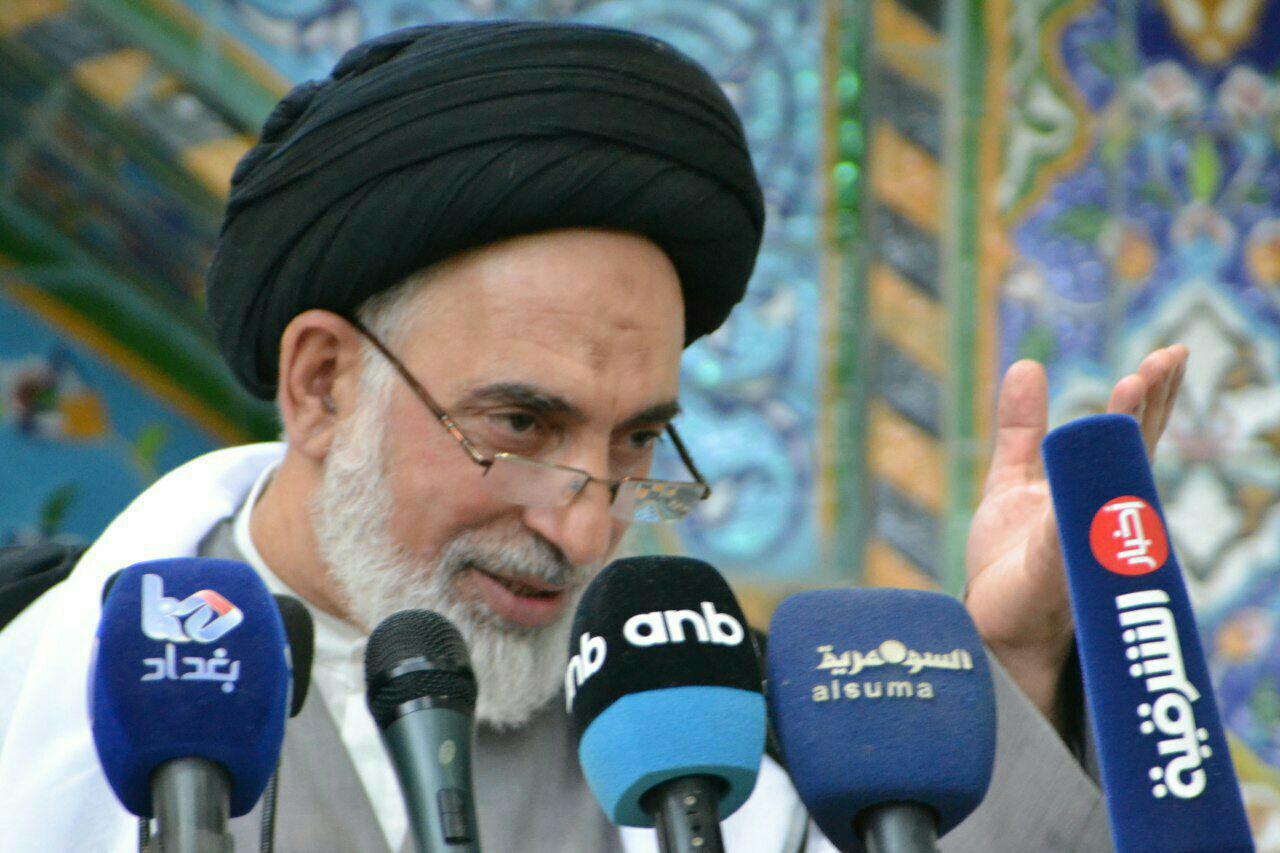 RNA – During his Friday prayer sermon delivered to a large and fervent crowd of believers in the Iraqi city of Najaf's al-Fatimiyah Husayniyah, Hujjat al-Islam Sayyid Sadruddin al-Qubanchi stressed that Iraq's Popular Mobilization Forces (Hashd al-Shabi) are a source of pride and offered condolences to the families of the martyrs of Hashd al-Shabi who had been attacked by Daesh terrorist group in the country's Kirkuk Governorate.
The Iraqi Shi'ah cleric called for the Iraqi authorities to be vigilant about the secret actions taken by the terrorist groups and stated that the movements of the Ba'ath party officers must be monitored.
Hujjat al-Islam al-Qubanchi praised the Iraqi government's rejection of a request by the United States to maintain its twenty military bases in the war-torn Arab country, saying, "The United States' monitoring of the upcoming parliamentary elections which scheduled to be held in Iraq on May 12, in the governorates of al-Anbar and Nineveh is not acceptable to us and leads to the violation of the rights of the citizens of these governorates."
His Eminence condemned the action by the United States to establish a safe area to support its forces on Iraqi soil, saying, "Iraqi forces have the ability to provide security in the two governorates of al-Anbar and Nineveh."
In his sermon on religious issues, he referred to the anniversary of the bombing of the dome of the Imamayn al-Askariyayn Holy Shrine by Takfiri terrorists, saying, "The enemies' actions were aimed at establishing a sectarian war in Iraq but this was neutralized by the sources of emulation and the sincere followers of the Ahlul-Bayt."
On February 22, 2006, explosions occurred at the Imamayn al-Askariyayn Holy Shrine in Samarra, effectively destroying its golden dome and severely damaging the shrine which contains the graves of the tenth and eleventh Shi'ah imams, Ali al-Hadi and Hasan al-Askari.
Hujjat al-Islam al-Qubanchi described the heart-rending commemoration of the martyrdom of Lady Fatimah al-Zahra in Najaf and praised the efforts of the Holy Shrine of Imam Ali, the security forces and services, adding, "God Almighty distances us from many tribulations due to the love for and attachment of the people to the Ahlul-Bayt."
112/976
Please type in your comments in English.
The comments that contain insults or libel to individuals, ethnicities, or contradictions with the laws of the country and religious teachings will not be disclosed