Hujjat al-Islam Qawouq:
Rasa – Hujjat al-Islam Qawouq said that when Daesh is finally buried, the Zionists, Saudis and Americans will hold mourning ceremonies.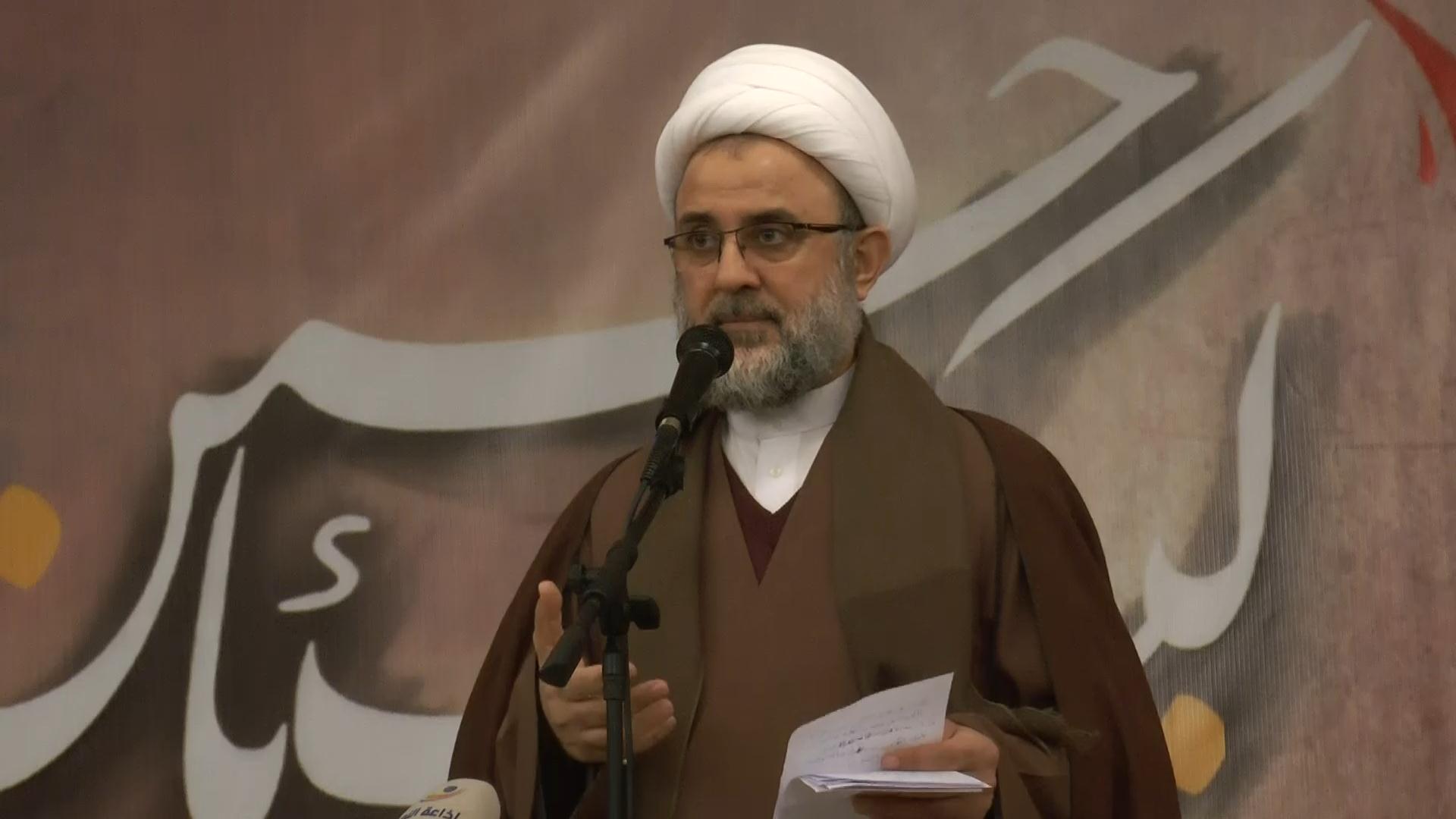 RNA – Speaking during a commemoration ceremony for Martyr Samer Ali Saloum in the southern Lebanese village of al-Qantarah, Hujjat al-Islam Nabil Qawouq, the vice-president of the Executive Council of Hezbollah, praised the honourable position of the commander in chief of the Lebanese Armed Forces, General Joseph Aoun, who refused to meet with the chief of staff of the Israeli army, and emphasized, "This action reflects the will of the people of Lebanon and the disgrace of the Saudi stance."

Aoun boycotted a major conference of chiefs of staff hosted by the United States in Washington last week which was attended by the Chief of Staff of the Israel Defense Forces, Lieutenant General Gadi Eizenkot.

The Lebanese Shi'ah cleric said, "Hezbollah is winning victory after victory, completing the battle in Syria and advancing from one battlefield to another in the pursuit of the fugitive Daesh forces and Hezbollah and its allies are on the verge of victory."

Hujjat al-Islam Qawouq noted that Daesh has reached its end in Iraq and Syria and the brave and zealous warriors of Hezbollah and its allies will bury Daesh and added, "On that day, mourning ceremonies will be held in Tel Aviv, Riyadh and Washington because every victory for the Islamic Resistance Axis is a day of mourning for Saudi Arabia, Israel and the United States."

His Eminence added, "Hezbollah's victory in the battle against the Takfiris is a great strategy that goes beyond the border between Syria and Lebanon."

Referring to the strategic, effective and influential role of the Islamic Republic of Iran in supporting the Islamic Resistance movement, he stated, "If it wasn't for Iran's support and assistance, Daesh wouldn't be on the brink of complete destruction in the region. Iran was the first country to move forward in support of the Resistance Axis in which it offered its dear martyrs on this path and was the main partner in all our victories over the Takfiri project."

Hujjat al-Islam Qawouq continued by describing Iran as a strategic partner in the war against the project of the Takfiri terrorist groups, including Daesh and the al-Nusrah Front and said, "Today, Iran has formed a deep and strong resistance strategy from Lebanon and Syria to Iraq and Yemen. The recent victories of the Islamic Resistance Axis are the result of the historical positions that the Muslim world adopted from [the Supreme Leader of Iran's Islamic Revolution] Ayatollah Sayyed Ali Khamenei when the world was rallying to topple Syria and the position of Iran has changed the course of the war in Syria."
Please type in your comments in English.
The comments that contain insults or libel to individuals, ethnicities, or contradictions with the laws of the country and religious teachings will not be disclosed