Ayatollah Makarem-Shirazi:
Rasa – Ayatollah Makarem-Shirazi said that the United States seeks to create an Arab version of NATO to unite Arabs and establish a regional army.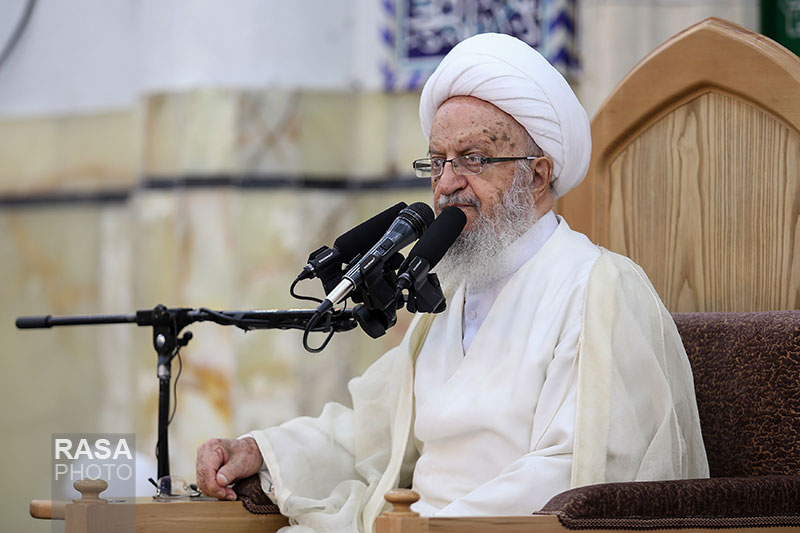 RNA – Speaking during his jurisprudence class on Monday at Qom's Grand Mosque, Grand Ayatollah Naser Makarem-Shirazi referred to the recent "devious statements" made by American officials and said, "Recently, American President [Donald] Trump has made two dangerous proposals."

The revered source of emulation said that Trump's first proposal is his call to establish an "Arab NATO."

"[The Trump administration said,] 'We must unite the Arabs and establish a united army of Arab countries which is supported by the US," the cleric said.

This is in reference to the Trump administration's rumoured talks with its key allies in the Middle East to create a regional military alliance in the Arab world which is similar to the European-US NATO alliance.

Ayatollah Makarem-Shirazi said that Trump's second proposal is that the Middle East must be filled with weapons.

He stressed that the Americans have plotted to turn the people of Islamic countries against each other so that they destroy their own countries with their own hands, in the same manner that they have destroyed Syria, Iraq and Yemen.

"On the other hand, the US sells second-hand and third-hand weapons to these countries," the teacher in the Islamic Seminary of Qom said.

Ayatollah Makarem-Shirazi stated that the Americans are seeking to reignite the fire that has been extinguished in Syria and Iraq in other Islamic countries and create bloodshed all over the Middle East.

His Eminence added, "If the people had even a little sense of rationality, they would understand what the US is scheming do in the region. At what time will they up from their slumber."

In another parts of his statements, he referred to the "Days of Fatimiyyah," a 20-day period which commemorates the martyrdom of Lady Fatimah al-Zahra, and stressed upon the importance of these days and said, "During these days, alongside all our devotion, we must realize that during the critical situation in the region where Arab and European NATO alliances exist, we mustn't give any excuse to the enemies to execute their sinister plans."

Ayatollah Makarem-Shirazi stressed that during the Days of Fatimiyyah, we mustn't insult the sanctities of other Muslims and said, "Such actions are very dangerous and we have a lot of responsibility in this arena because this year, the situation is different from previous years."

His Eminence added that we must be awake and understand the interests of Islam and of Muslims and take the conditions of the current era and location into consider and coordinate our duties with time and place in mind so that we don't give the enemies any excuses.

112/930/427
Please type in your comments in English.
The comments that contain insults or libel to individuals, ethnicities, or contradictions with the laws of the country and religious teachings will not be disclosed