Hujjat al-Islam Naim Qasim:
Rasa – The Deputy Secretary-General of Hezbollah offered his congratulations on the anniversary of Iran's Islamic Revolution and said that Saudi Arabia has rejected Iran's hand of friendship due to US and Israeli opposition.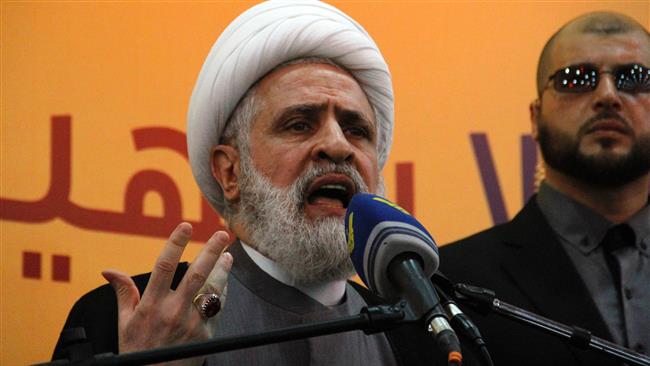 RNA – Speaking on the anniversary of the 38th anniversary of Iran's Islamic Revolution in Beirut, Hujjat al-Islam Naim Qasim, the Deputy Secretary-General of the Lebanese resistance group Hezbollah, noted that the 1979 Islamic Revolution is the reason that the Middle East was led from an era of defeat to an era of victory.

The senior Lebanese scholar said that the Islamic Revolution destroyed Iran's subordination to both the East and West and strengthened its independence and said, "Iran changed the situation in the Middle East from a situation which laid the foundations for the establishment of the Zionist regime to a situation which laid the foundations for strong and able governments."

He added that Iran supported the resistance of oppressed peoples against the Zionist occupiers and other occupiers in the region and today, Iran has given hope to the peoples of the Middle East. "Today, we can stand against oppression and occupation and define our own future," he said.

Hujjat al-Islam Qasim said that if the Persian Gulf monarchies want to ensure their security and take advantage of their opportunities and potential for advancement, they must cooperate with Iran because cooperation with this country will strengthen and maintain the security, stability and future of the entire region.

The senior member of the Islamic Resistance referred to the defeat of the Zionist regime by Iran, saying that Iran has been transformed from being the policeman of the United States against the Arab and Islamic countries of the region to the defender of Arabs and Muslims and added, "Arab and Islamic countries need to cooperate with Iran."

Hujjat al-Islam Qasim expressed regret over the lack of cooperation by some Arabic countries with Iran and stressed that Iran has its reached out to Saudi Arabia and other countries in the region but these countries have opposed these efforts because the US isn't satisfied with such cooperation and because Israel doesn't benefit from it.

He said Iran will pay the cost of standing alongside the Islamic Resistance and the Palestinian people and will also support Hezbollah and the Resistance against the Zionist enemies and added, "The Islamic Republic of Iran led by Ayatollah Khamenei continues to provide service, generosity and sacrifice."

In conclusion, Hezbollah's Deputy Secretary-General said Iran is a pioneer in all scientific, cultural, political, moral and educational arenas and supports Lebanon and added that Hezbollah is proud of Iran's support.

"In regard to this, we see that Iran doesn't have any expectations from Hezbollah and Lebanon and offers its assistance without asking for anything in return," he said.

112/930/425
Please type in your comments in English.
The comments that contain insults or libel to individuals, ethnicities, or contradictions with the laws of the country and religious teachings will not be disclosed