Ayatollah Makarem-Shirazi:
Rasa – Ayatollah Makarem-Shirazi: "We must pay careful attention to mourning ceremonies for Imam al-Husayn and rituals so they are not contaminated by superstitions."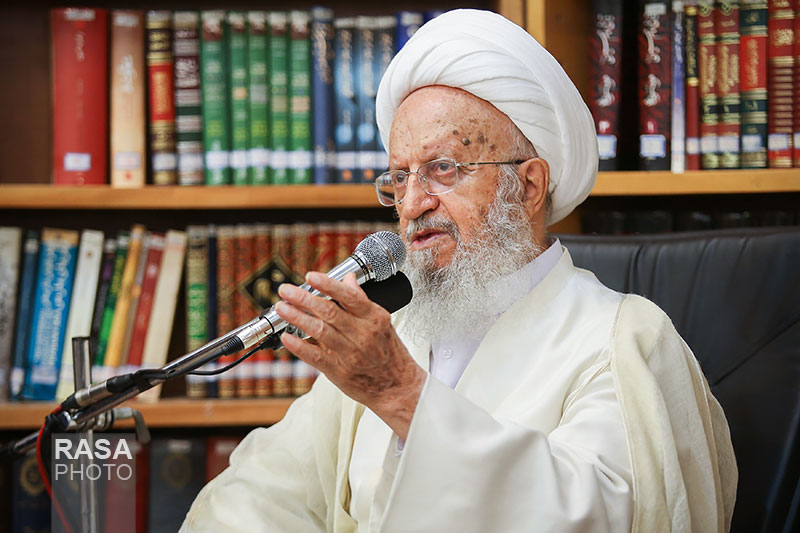 RNA – Speaking on the necessity of holding rational mourning ceremonies for Imam al-Husayn, Grand Ayatollah Naser Makarem-Shirazi, a senior Shi'a cleric in Qom, said.
The source of emulation said, "Shi'ism is based on rationality and wisdom and we adhere to doctrine of the Ahlul-Bayt, the basis of all Islamic teachings, hadiths and principles are all rational and this makes us powerful to overcome all those who have turned against rationality and wisdom in today's world. We must preserve the rationality of Ashura Day, the teachings of Ashura must be revived and this happens only if we manifest Shi'a rationality in our Muharram mourning ceremonies."

"Karbala was the arena in which all the divine values stood against all the vice and immoralities, during which the destiny of genuine Islam was decided and it was there that true Islam was distinguished from the false one," Ayatollah Makarem-Shirazi said.


The need to hold rational mourning ceremonies for Imam al-Husayn
His Eminence explained, "Without a doubt, the mourning ceremonies held for Imam al-Husayn's martyrdom are considered as spiritual gatherings which lead one to self-purify his or her soul from vice. Those who attend such ceremonies, cry for Imam al-Husayn's innocence and regard his eminence as their role model in life are in fact providing a basis in order to actually follow this great Imam's footsteps in action."


Ayatollah Makarem-Shirazi stated that the impact of mourning ceremonies for Imam al-Husayn is so deep that some people go through significant spiritual changes and journeys during their attendance in such gatherings, some of them decide to give up committing sins and even some deviated people realize their faults and find their path towards God and piety.


Self-flagellation: The enemies' project to influence Shi'a rationality
He noted that today, the enemies of Islam seek to influence Imam al-Husayn mourning ceremonies and further display a superstitious face of such events to the world, one of their main ways is through broadcasting scenes of self-flagellation. Therefore, in foreign media they propagate self-flagellation as Shi'as' main mourning ritual, they show bloody Muslims while performing self-flagellation in order to persuade the world that such rituals are irrational. They want people to hold such pictures in their minds as proof against Ashura ceremonies.


"The reason behind all this is that our enemies want to influence our rituals, to damage the Muslim ummah's face and deprive us of such invaluable asset," Ayatollah Makarem-Shirazi concluded.
112/940
Please type in your comments in English.
The comments that contain insults or libel to individuals, ethnicities, or contradictions with the laws of the country and religious teachings will not be disclosed