Arab Analyst: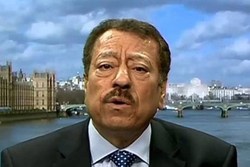 Abdel Bari Atwan, the editor-in-chief of Rai al-Youm newspaper, underlined the ineffectiveness of the US crude sanctions against Iran, saying that the Iranian oil tankers still continue their voyage to supply crude to foreign customers.
RNA - "Three days after the start of the US threats to fully stop Iran's oil exports and imposition of sanctions against countries which are not committed to them, giant Iranian oil tankers are still sailing through the Strait of Hormuz and the Indian Ocean towards customers in China, India, South Korea and Japan unabated," Atwan wrote on Saturday.
He added that more important than the free voyage of the Iranian oil tankers in international waters are reports saying that the US ships which pass through the Strait of Hormuz in the Persian Gulf should respond to the Iranian naval forces' questions about their cargos and identity.
According to Atwan, although customers of the Iranian oil have decreased their purchases in the past few months after the US sanctions, the important point is that Iran's oil is still flowing and the US decision to zero the country's crude exports is nothing but an order on a paper.
Iranian Oil Minister Bijan Namdar Zanganeh underlined last Wednesday that the US attempts in collaboration with Saudi Arabia and the UAE to stop Iran's crude exports were doomed to failure, stressing that the two Arab states' claims about excess production capacity were baseless.
"The Americans are after zeroing Iran's oil exports, and I need say that the country's collaboration with two of our neighbors which centers on baseless illusions will not materialize," Zanganeh said, addressing an opening ceremony of the international oil industry exhibition in Tehran.
He added that the Saudi and UAE claims about their capacity for production of oil and reservoirs were not correct, but exaggerated, and asked them to corroborate their claims with facts and documented proof that could be studied and verified by the international bodies.
Zanganeh also underlined that the capacity for Iran's gas production would surpass 1,000mln cubic/meters this year, adding that the country would continue its focus on investment in the South Pars oil and gas field.
In relevant remarks last week, President Hassan Rouhani had also downplayed the effects of Washington's decision to end sanctions waivers on Iran's oil sales, and dismissed talks with the US administration which uses the language of threat and force to demand negotiations.
"We have always been people who favor talks and diplomacy as we are people of war and defense. Negotiations will be possible when all pressures are taken off, they (the US) apologize for their illegal measures and when there is mutual respect. Undoubtedly, demands by a knife-stabbing person who lies and is using force to hold talks is not accepted and we do not negotiate with a knife-stabbing person and with the formula of knife-stabbing, as accepting such negotiations means humiliation and surrender," President Rouhani said, addressing a cabinet meeting in Tehran.
He said that the US was no way ready for negotiations, reminding that Washington's 4-decade-long plots against the Iranian nation had all ended in fiasco and failure for the White House.
"And they will fail in their plots again," Rouhani underscored.
He played down the US threats to zero Iran's oil exports, saying, "This is not possible and we will sell our oil in different ways, while this move by the US is an oppression against all the world nations, international oil firms and even its own nation."
President Rouhani said Iran was pleased with all its neighbors, except Saudi Arabia and the UAE, and sent them a tacit warning. "They should note their acts and behavior. Saudi Arabia and the UAE should know that they have survived because of the wise decision made by the Islamic Republic of Iran's government."
He explained that when Iraqi dictator Saddam Hussein occupied Kuwait in 1990s he sent a message to demand Iran's cooperation with Baghdad in occupation of other Persian Gulf Arab states, but his offer was turned down by Iran.
"It was the Islamic Republic of Iran which saved Saudi Arabia; had we made another decision in that period of time, there would have been no sign of Saudi Arabia and the UAE," Rouhani said.
He blasted Riyadh and Doha for their collaboration with the US in pressuring Iran through compensating for Iran's production share to be lost under the new US decision.
"You know that the Islamic Republic of Iran is the main regional power and if it changes its decision, it will bring it into action; therefore, you must choose a path beneficial to the regional and world nations and the market," President Rouhani said.
847/940
Please type in your comments in English.
The comments that contain insults or libel to individuals, ethnicities, or contradictions with the laws of the country and religious teachings will not be disclosed