Service :
04 April 2020 - 21:13
News ID:

449900
Scholar: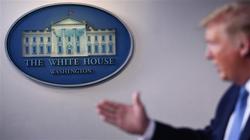 Donald Trump's demand that Iran grovel before him and plead for aid shows the moral bankruptcy of the United States under his leadership, says Dennis Etler, an American political analyst who has a decades-long interest in international affairs.
RNA - Etler, a former professor of Anthropology at Cabrillo College in Aptos, California, made the remarks in an interview with Press TV on Friday after Trump said that the US no "moral responsibility" to suspend Iran sanctions if Tehran does not ask for it to fight the COVID-19 pandemic.
"No, no, no, they didn't even ask me about it," Trump said on Thursday during a press briefing of the White House Coronavirus Task Force when asked if he had a "moral responsibility" to lift the sanctions.
Trump added that he would only consider "helping" Iran if "they asked".
Despite repeated calls by Iran, US officials have refused to lift draconian sanctions harming Iran's efforts to contain the coronavirus while simultaneously claiming readiness to "aid Iranians" if "they ask".
Professor Etler said, "The moral bankruptcy of the US under Trump is apparent for all to see. Trump demands that Iran grovel before him and plead for aid. Like a sadistic serial killer, Trump wants to see his victims swing slowly in the wind, just as his racist predecessors watched African-American victims of lynchings in the US South."
"However, it is not Trump alone; he is just the most egregious example of American barbarism. The US, ever since the end of World War II has been the main purveyor of war and terrorism, victimizing and destroying one country after another that stands up to its deceitful bullying," he added.
"US sanctions against Iran contravene international law. In this time of crisis brought on by a global pandemic whose origins may very well have been in the US, it is still attempting to use its hegemonic powers to attack any country it deems to be an 'enemy,' be it Iran or Venezuela, laying down conditions for aid that are tantamount to extortion and blackmail," he stated.
"The US has no concern for the plight of people anywhere in the world. Its words drip of hypocrisy and its actions betray its barbarism," he said.
"Peace-loving countries such as China, Russia, and Cuba have contributed humanitarian aid in the spirit of fraternal internationalism to countries regardless of their political persuasion, out of a sense of common decency and respect for the needs of people of all countries in their time of dire need," he said.
"The US on the contrary talks only of humanitarian interventionism, a cover for war, aggression and regime change," the analyst said.
"The world will not soon forget who are the real champions of peace and development and who are its sworn enemies," he noted.
The Iranian leadership has dismissed the offer as hypocritical "words without action" but has urged the international community to act against Washington's "economic terrorism" amid the COVID-19 pandemic.
Speaking in a televised address last week, Leader of the Islamic Revolution Ayatollah Seyyed Ali Khamenei said that it was among the "weirdest things which they tell us to ask them" for sanctions relief as Washington continues to impose new sanctions on the country.
The US imposed its latest round of sanctions targeting allegedly Iran-related individuals and companies last week.
Washington's insistence on unilateral sanctions against Iran comes despite the call of various international leaders and organizations urging sanctions relief for Iran as the country grapples with the coronavirus outbreak.
Please type in your comments in English.
The comments that contain insults or libel to individuals, ethnicities, or contradictions with the laws of the country and religious teachings will not be disclosed