Service :
29 March 2020 - 11:04
News ID:

449811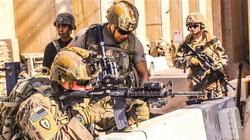 The Pentagon regime has issued a secret directive calling on the US military commanders in Iraq to plan a massive campaign against Iraqi Shiite resistance groups, with an eye toward totally wiping the factions out.
RNA - The offensive is being advocated by Secretary of State Mike Pompeo, who claims they can destroy the Popular Mobilisation Units which dislodged ISIL terrorists while the country is distracted by the coronavirus pandemic.
Some commanders, particularly Lt. Gen. Robert White, are opposing the idea. The general warns that the new campaign would take thousands more US troops, divert resources from existing missions, and risk blowing up into a full-scale war.
This was all expected, given that on March 19 Iraq marked the anniversary of the US-led invasion of Iraq in 2003. The US wants a repeat of that:
In the name of pre-empting a threat, the illegal invasion consisted of major combat operations, in which a combined force of troops from the United States, the United Kingdom, Australia and Poland went after Iraq's weapons of mass destruction that were never there. Still, that didn't stop the invaders from destroying Iraq's civilization, killing and wounding over one million civilians, and making millions more homeless.
Now the warmongers want to destroy the groups that defeated the terrorist group of ISIL because obviously they are not happy with the current destruction of Iraq. They want more misery so they can stay and entertain.
Such a catastrophic delusion should be a cautionary tale - at least for the capital of war-making Washington. Far from it, the warmongers want to bring the same level of destruction and misery to the sovereign nation - perhaps to outdo Syria and Yemen. The outcome will be even more regional instability and a freer hand for the kind of Salafist radicals and terrorists who continue to threaten and attack everything and everyone, even in the heart of the European continent.
As is the case with Iraq, the US continues to profit from conflicts by igniting arms race and spreading its military and empire of bases across the region and beyond. It is engaged in covert and overt wars in places like Afghanistan, Yemen, Libya and Syria, and, via drone strikes, in Pakistan and Somalia. The US government has now gone even further, provoking Iran, Russia and China, pushing for another coup in Venezuela, and expanding its military presence in Asia and Africa.
The one war President Trump "seems" interested in avoiding for the sake of a capitulation-ist negotiation - with Iran - a group of regime changers has now taken it upon themselves to strive to bring into being by sanctions amid the coronavirus.
Congress is keen to increase military budget spending and authorize more war making, while Trump has made clear the wars and horrific abuses (Guantanamo, Black Ops, Blackwater) will continue regardless of his so-called "pacifist" policies, the United Nations, the rule of law, strategic common sense, hardened public attitudes, and of course basic human morality.
The war on Iraq's Popular Mobilisation Units, obviously, opens the gates of hell to the US army, but is certainly aimed at a purpose. Iraq is not a sponsor of Takfiri and Salafi terrorism, but is one of the main actors that defeated this most barbaric type of terrorists.
According to Fars News Agency, this is a new round of escalation in West Asia that is fuelled not by the resistance fighters, but by a state that is the prime actor in charge of chaos, pains and devestation in Syria and Yemen. The US decision to "wipe" them out seeks to turn Iraq into precisely the sort of failed-state sectarian war zone that does fuel terrorism, sectarianism and instability, if not a coup de tat that is now believed to be the prime objective of the US fast widening buildup in Iraq in recent weeks as the world attention is only focused on coronavirus news reports. The US has been troubling formation of a government in Iraq through increasing moves behind the scene in the last one year.
The same rule applies to Libya and Syria, where foreign-backed terrorism rules. After all, if profits can be made through arms transfers and postwar destruction, what's to prevent a repeat of that fiasco from once again producing the opposition of its intended effect in Iraq?
So never mind that Iraq remains divided and in perilous shape after so many years. What the war history lesson implies is that imperial plunder and destruction of civilizations is nothing but an upgraded version of American tradition: destroy, divide and rule - again and again and again.
*****
112/940
Please type in your comments in English.
The comments that contain insults or libel to individuals, ethnicities, or contradictions with the laws of the country and religious teachings will not be disclosed