Service :
24 September 2019 - 21:24
News ID:

447255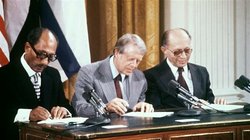 A new report has revealed that former US President Jimmy Carter's administration covered up an Israeli nuclear test back in 1979, a policy that has continued under the subsequent administrations.
RNA - An American reconnaissance satellite known as Vela 6911 recorded a double flash, an "unmistakable pattern produced by a nuclear explosion", over the South Atlantic on September 22, 1979, Foreign Policy said on Sunday.
On the 40th anniversary of the nuclear test, the American magazine used a series of articles to analyze the incident.
Foreign Policy said that a US panel of experts established by Carter back then found that "the September 22 signal was probably not from a nuclear explosion."
Carter, however, knew this was not the true story.
According to the report, Carter wrote in his diary on February 27, 1980, "We have a growing belief among our scientists that the Israelis did indeed conduct a nuclear test explosion in the ocean near the southern end of Africa."
"The Carter administration was so afraid to enforce the Partial Test Ban Treaty against Israel's 1979 violation that it did what it could to erase or keep hidden evidence of its detection of a test," Foreign Policy said.
"Subsequent administrations, Republican and Democratic alike, went along with this, and the US government still pretends it knows nothing about any Israeli nuclear weapons."
The cover-up reportedly aimed to avoid any negative impact on the Carter-mediated Camp David Accords, which was signed between Israel and Egypt a year earlier, and to avoid imposing sanctions against Israel.
"Now, 40 years later, there is a scientific and historical consensus that it was a nuclear test and that it had to be Israeli," Avner Cohen, a professor and senior fellow at the Middlebury Institute of International Studies and a global fellow at the Wilson Center, told Israel's newspaper Haaretz.
Among the articles published by Foreign Policy on Sunday is one headlined "Politicians May Lie. The Archives Don't" by Cohen and William Burr, the director of the Nuclear Documentation Project at the National Security Archive at George Washington University.
It lists several arguments the authors say confirm that Israel was responsible for the nuclear test even though "no public smoking gun has surfaced that conclusively ties Israel to the Vela [satellite] event, and no credible and identifiable Israeli source has ever openly confirmed an Israeli test."
In the article, Cohen and Burr said after the 1973 Arab–Israeli War or Yom Kippur War, "top [Israeli] leaders and their nuclear advisers" recognized that Israel's "small nuclear arsenal ... was inappropriate and perhaps even irrelevant to the military situation in which Israel found itself during the early stages of the Yom Kippur War."
Thus, the authors say, Israel conducted a nuclear test.
They also referred to the 1976 sacking of scientist Shalhevet Freier, the director general of the Israel Atomic Energy Commission, as possible proof of an Israeli test, as he opposed such a trial.
The Foreign Policy said, "We believe, based on a great deal of documented and anecdotal evidence, that the Vela event was indeed the detection of a low-yield Israeli nuclear test."
847/940
Please type in your comments in English.
The comments that contain insults or libel to individuals, ethnicities, or contradictions with the laws of the country and religious teachings will not be disclosed