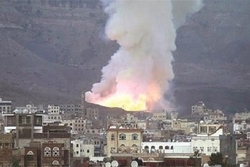 Now that United Nations warns that about 231,000 Yemenis will have died from hunger, disease and lack of health clinics by the end of this year, it should do the next best thing: force the Saudis to stop the war on this defenseless nation.
RNA - At least this could help prevent further fighting which the world body says will have claimed about 102,000 lives by the end of 2019. This includes those who might die "from hunger, disease and the lack of health clinics and other infrastructure than from fighting."
According to the UN's latest report called Assessing the Impact of War on Development in Yemen, many people will have died from the side effects of the conflict and not the actual fighting, with the combined death toll - from fighting and disease – at "233,000, or 0.8 percent of Yemen's 30 million-strong population."
This is not to mention the costs of those five years of conflict that has already cost Yemen's economy $89 billion and counting. It's all the reason why the war-torn country, the poorest nation in the Arab world, needs a temporary cessation of hostilities now. There is no need for the failed war to drag on until 2030 or further – an unnecessary war that the UN says could set back the country by 26 years.
All this, of course, depends on the United States. The country has been arming Saudi Arabia and its allies since March 2015, including refueling their warplanes mid-air and providing reconnaissance and targeting intelligence information. The international backlash has been so widespread that Congress was forced to approve a bill to end US support for the Saudi-UAE war on Yemen, which was vetoed by President Donald Trump.
However, according to the UN, Human Rights Watch, Amnesty International and a maze of other international rights groups and aid agencies, the air raids by the Us-backed, Saudi-UAE coalition have mostly hit civilians, hospitals and water treatment facilities. They estimate as many as 60,000 civilians have been killed in these raids and "as many as 85,000 children starved to death, with millions more one step away from famine."
Worse still, international aid groups say the Saudi-UAE military authorities are recruiting Yemeni children, many of them desperately poor, to fight along the Saudi border against the popular Ansarullah forces. This goes against the Charter of the United Nations and international law, which prohibit the use of children in armed conflicts.
Into the argument, Washington claims its military support to Saudi Arabia is designed to stop Iran's influence in Yemen, which is not true and substantiated by any evidence. Iran has no forces in Yemen. It was in fact the first country that warned against the war's terrible consequences. Even after five years, the Islamic Republic keeps telling the warring factions that the only way out of the current deadlock is dialogue and national reconciliation.
According to Fars News Agancy, the problem is that the US government refuses to stop arming and supporting the Saudis and their allies, let alone supporting such initiatives. It gets worse to hear that president Trump says he has every intention to give a second veto to the Congress bill that demands an end to the US-backed war on Yemen.
Unless this madness stops, some 22 million souls will remain at risk of dying, or being killed. Many civilians will also starve to death or die from medical problems for which they can receive no medicines. The poorest country in the Muslim world is still under blockade, and despite a ceasefire agreement in Hodeida (the only port from which humanitarian aid can get into the country) that is no fully respected by the Saudis and their allies, major humanitarian assistance cannot get into many parts of Yemen yet.
It gets worse. Even if Trump doesn't veto the Yemen war bill for a second time, US drone attacks and Special Forces operations against the war-torn country will continue apace – just like in Afghanistan. The bill doesn't prohibit US forces from carrying air and drone attacks against what they claim are Al-Qaeda targets. According to international aid groups, in many cases these 'precision' air raids and bombings also kill innocent civilians in populated areas.
847/940
Please type in your comments in English.
The comments that contain insults or libel to individuals, ethnicities, or contradictions with the laws of the country and religious teachings will not be disclosed