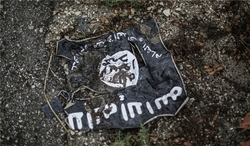 The United States has created the Daesh terrorist group, along with other terrorist outfits, to advance its own imperial agenda, says an American political analyst.
Rasa - Stephen Lendman, author and political commentator in Chicago, made the remarks in a phone interview with Press TV on Saturday.
On Friday, Iran's ambassador to the United Nations censured the US assassination of top Iranian commander Lieutenant General Qassem Soleimani as a big gift to Daesh and other terrorist groups in the region.
Takht-Ravanchi said the targeted killing of General Soleimani was a "brutal and cowardly" act and an "obvious example of state terrorism" perpetrated in breach of international law.
In a drone attack on January 3, the US assassinated General Soleimani, commander of the Quds Force of Iran's Islamic Revolution Guards Corps, and Abu Mahdi al-Muhandis, the second-in-command of Iraq's Popular Mobilization Units (PMU), and a group of their companions near Baghdad International Airport.
Both commanders enjoyed deep reverence among Muslim nations over their endeavors in eliminating the US-sponsored Daesh terrorist group in the region, particularly in Iraq and Syria.
The operation was conducted with the authorization of US President Donald Trump.
"Unlike what the Pentagon and the Trump regime and others in Washington said, the killing had absolutely nothing to do with self-defense. The US is threatened by no other nations. The US has had no enemies since World War II ended except the ones it invents, and it invents them because it doesn't have any real ones," Lendman told Press TV on Saturday.
"General Soleimani was very instrumental in eliminating Daesh in Iraq. I agree with Iran's UN envoy saying killing him was a gift to Daesh. Well, it was really a gift to the US because the US created Daesh, uses it along with al-Qaeda and like-minded terrorist groups as proxy fighters to advance its imperial agenda wherever the US decides to employ the fighters," Lendman added.
The analyst went on to say that, "The name really doesn't mean anything; It's who these people are, what they do, and who they are serving. They are serving US interests. They're US fighters, they do US killing and die for the US imperial agenda."
"They are armed, trained, funded, and housed at the US military bases... US helicopters and other transport planes, I guess, transport these people to various areas where they want them used as proxy fighters."
In a recent report, Agnes Callamard, UN special rapporteur on extrajudicial, summary or arbitrary executions, said the assassination of General Soleimani was "unlawful," and said the US had failed to provide sufficient evidence of an ongoing or imminent attack against its interests to justify the strike.
On Thursday, the rapporteur said the US has put the world at unprecedented peril with the assassination, warning that it was high time the international community broke its silence on Washington's unlawful killings.
In response to the assassination, the IRGC fired volleys of ballistic missiles at a US airbase in Iraq on January 8.
Subsequently, Iraqi lawmakers approved a bill demanding the withdrawal of all foreign military forces from their country.
Please type in your comments in English.
The comments that contain insults or libel to individuals, ethnicities, or contradictions with the laws of the country and religious teachings will not be disclosed