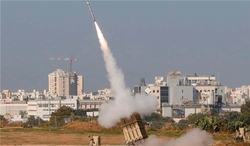 Israel has re-initiated its targeted assassination strategy for killing Palestinian leaders and perceived combatants, a move which was calculated to stir up regional tensions and potentially initiate a fourth large scale war with the Gaza Strip.
RNA - In the Early hours of Tuesday morning, Israel launched unprovoked airstrikes against the North of the Gaza Strip killing the senior commander of Palestinian Islamic Jihad (PIJ), Baha Abu al-Ata (43 years old). The strike also killed the PIJ commander's wife Asma Mohammed (39 years old) and a young man named Mohammed Atiyah (20 years old), injuring several others.
The later announced 'targeted assassination' by Israel was followed by another round of Israeli strikes, this time hitting Western Mezzeh in Damascus, targeting Akram Ajjouri, a deputy leader in the Palestinian Islamic Jihad movement. The strike took place at roughly 4:20 A.M in the morning and hit the residence of the PIJ commander, killing his son and a bodyguard named Abdallah Hassan. The strike also injured 10 others including Ajouri's daughter.
In response to these illegal 'targeted assassinations,' as Israel calls them, both Islamic Jihad and Hamas have vowed to respond, with PIJ declaring war on Israel.
Over 190 rockets were then fired from Gaza into Israel, striking Tel Aviv, Sderot and Ashekolon, as well as other areas. The Israeli military claims they shot down dozens of the incoming rockets, indicating that their "Iron Dome" missile systems had failed despite allegedly readying themselves for the response.
Israel then began launching a number of strikes against Gaza again, primarily targeting Beit Lahia (Northern Gaza) and Khan Yunis (Southern Gaza), amongst other sites. These Israeli strikes killed Zaki Ghannam (25 yrs old), Ibrahim Al-Dabous (23 years) and injured at least 20 according to the Gaza health Ministry.
The rocket fire into Israel has proved to successfully overwhelm Israel's air defense systems, specifically the Iron Dome air defense systems.
Considering the fact that most of the rockets fired are nothing more than enhanced fireworks, this is extremely embarrassing to Israel and proves that its systems are a failure. Reports have also surfaced indicating that one of Gaza's armed factions scored a direct hit, using an RPG, on an Israeli Merkava Tank.
The death toll has risen to over 7 at this point in Gaza and is subject to rise, the injuries have also reached over 40. On the Israeli side there is yet to be casualties. The latest murdered by Israel are Abdullah Al Balearic (26 years old) Abdul Ahmed (28 years old).
Why Is Israel escalating tensions with Gaza now?
In order to understand Israel's decision to target the Islamic Jihad leadership, we have to keep in mind two key factors, both Israeli and Palestinian politics.
The first reason for Israel's recent acts of aggression is that the Israelis are likely concerned about the recent developments on the Palestinian political scene. All of the Palestinian factions have come together and decided that it is time to hold new elections in the occupied territories.
There have been numerous failed proposals for new elections and unity before, yet it has failed time and time again, but this time it seems to really be a possibility. This of course scares the Israelis, because they know that if any other factions, other than Fatah, win in the West Bank, Israel will have to deal with a new type of resistance from West Bankers.
More important though, is that there will also likely be an end to the 'security coordination' between the Palestinian Authority and the Israeli occupation army, which allows Israel to operate its cost free occupation of the territory.
If these strikes escalate into war, then the Palestinian Authority headed by Abbas's Fatah Party, will likely abandon the idea of elections and condemn Gaza's aggression. We can assume this as in 2014, unity government talks were ongoing and the prospects for it to go further were completely destroyed upon the wars initiation. In 2014, the war was also started after targeted assassinations of Hamas officials.
The second reason for Israel wanting to initiate a war or even just launch these, so-called 'targeted assassination' strikes is the current election deadlock Israel finds itself in. After Israel's snap elections on the 17th of September, the Israeli regime has been in shambles, with a possible third election on the horizon within the space of one year.
Israel's current Prime Minister Benjamin Netanyahu was given the first chance at forming a coalition in the Israeli Knesset, despite winning one less seat than his rival Benny Gantz. Netanyahu, the leader of Israel's Right Wing Likud Party was then unable to form a coalition and passed the torch onto his rival Benny Gantz, heading the Blue and White Party. Gantz is still unable to form a coalition.
If a third election snap election happens, Netanyahu who is still the reigning PM, will have to deal with the "Gaza problem" which has led to him losing many votes, especially in the South of Israel. So executions of the leadership in Gaza, is a great PR move for Netanyahu and a war could help him win the next election.
Israel has been seeking this war for some time.
In order to understand the origins of the Israeli rage influenced actions, we have to look back to November of 2018, when Israel failed a special forces operation in Gaza, ultimately resulting in the death of an Israeli commander, the death of a Hamas commander and a fight that would ensue in the following hours and days.
Israel sought to kidnap a Hamas Al-Qassam brigades commander, Nur Barakah, perhaps wanting to achieve a 'prisoner swap' type deal, exchanging him for the bodies of Israelis killed in combat, currently held by Hamas. Israel failed badly and the Israeli press shed light on their failure.
Hamas also successfully used an anti-tank missile, in an attack that destroyed an Israeli bus. Hamas waited for Israel to claim that the bus was full of civilians, before releasing a video that revealed the bus was filled with military personnel. Hamas waited and fired the anti-tank missile, following the departure of all but one soldier, from the bus. This was used, to threaten Israel. The Secretary-General of Hezbollah, Sayyed Hassan Nasrallah, claimed that Hezbollah had smuggled the anti-tank missiles into Gaza.
The Salahaldeen Brigades then leaked a video to 'Al-Mayadeen TV,' revealing an operation from back in February of 2018. The video showed several soldiers being killed, by an explosive laced flag pole. The operation was at the time covered up by an embarrassed Israeli military.
Avigdor Lieberman then resigned as Israel's minister for military affairs after Netanyahu refused to go to war. He has been the kingmaker in Israeli politics ever since and his opposition to Netanyahu stems from this escalation in Gaza last November.
This year there has been a number of 'flare ups' all of which Israel has not came out of looking militarily good, they have consistently killed civilians and have been fought off by Gazan armed factions. This is despite the fact that Hamas and the other armed factions in Gaza have much less in terms of weapons technology.
What is likely to happen now?
As usual the Western mainstream media have covered today's illegal assassination strikes against Gaza and Syria, as if they were somehow legally permissible. Israel is not being held to account for its actions and the international community has already begun to condemn the response from the Gaza Strip. It is almost a given that the Western world and its media will take the side of Israel no matter what and will act as if they are the Israeli Foreign Office.
The situation on the ground however, will be dictated by the Palestinian resistance's responses to Israel's murderous airstrikes. When the Palestinian armed groups escalate, Israel will also escalate. The most important take away point however, is that Israel started this carnage and Israel is the one murdering innocent civilians under siege, with precision weapons.
Robert Inlakesh/Press TV
847/940
Please type in your comments in English.
The comments that contain insults or libel to individuals, ethnicities, or contradictions with the laws of the country and religious teachings will not be disclosed