Spokesman: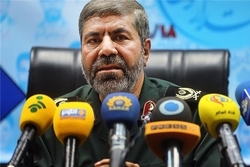 Head of the Islamic Revolution Guard Corps Public Relations Department Brigadier General Ramezan Sharif lauded the IRGC for downing an intruder US spy drone and seizing a violator British oil tanker in the Persian Gulf.
RNA - "The world arrogant powers, specially the Americans, had been attempting in the past few years to create displeasure in the (Iranian) society by increasing military threats, but the enemies' empty power was displayed to the world by the shooting down of an intruding US drone and seizure of a violator British oil tanker," General Sharif told reporters in the Southern city of Bandar Abbas on Wednesday.
Elsewhere, he said that the Iranian people have foiled all enemy plots and pressures through sanctions by their firm resistance.
Iran's air defense units intercepted an intruder US Navy spy drone, MQ4-C Triton, over Iran's territorial waters on June 20.
The IRGC shot down a US Navy's Northrop Grumman MQ4-C Triton drone that had entered Iranian airspace in the Gulf of Oman to gather intelligence on June 20, using indigenous Sevvom Khordad surface-to-air missile system.
The United States had confirmed that one of its reconnaissance planes was shot down by Iranian air defenses, but denied that it intruded into Tehran's airspace at the time.
Commander of the IRGC Aerospace Force Brigadier General Amir Ali Hajizadeh said that his forces could have also shot down a US P8 aircraft with 35 on board which was violating Iran's airspace, but decided to shoot down the drone to only send a message to Washington.
"We intended to send a message to American terrorists in the region," Brigadier General Hajizadeh said on June 21, adding that his forces had also traced a military P8 aircraft violating the airspace of Iran.
"Along with the American drone was an American P8 aircraft with 35 on board, and it was also violating our airspace and we could have downed it too," he said, adding, "But we did not do (shoot down) it, because our aim was to warn the terrorist forces of the US."
General Hajizadeh also stressed on June 22 that Iran was not after war but was fully ready to defend itself, adding that the fate of the downed US spy drone was waiting for any intruding flying object.
"Our response to anything trespassing Iranian territory is like this, and if such acts of aggression are repeated, our response will also be the same," General Hajizadeh said.
"We don't embrace war but we are ready to fully defend the country," he said.
"We possess a collection of US drones which is a proof that US has violated Iran's airspace and shows that they don't want to respect the international law," General Hajizadeh said.
"If such an aggression is repeated, we will add other US (military) products to complete this collection," he noted.
"The US measure was in violation of international law and we acted according to our legitimate responsibility," General Hajizadeh said, adding, "It is possible that a US general or some operators were behind this American aggression, we don't know that. But that measure (intruding into Iranian airspace) is a violation of international aviation rules by a spy drone which then received our natural response."
Meantime, IRGC Commander Major General Hossein Salami stressed that the move should alert Washington officials to stay away.
The incident sent "a clear message" to the US and other enemies that Iran will show a firm and crushing response to any aggression, he stated.
"Borders are our red lines and any enemy which violates them will not go back home and will be annihilated. The only way for enemies is to respect Iran's territorial integrity and national interests," the major general noted.
Also, last month, the IRGC Navy impounded Stena Impero when it was passing through the Strait of Hormuz en route to Saudi Arabia "for failing to respect international maritime rules".
"UK tanker ship, Stena Impero, has been detained by the vessels unit of the IRGC Navy's First Naval Zone at the request of the Ports and Maritime Organization's office of Hormuzgan province for disregarding international maritime rules and regulations as it was passing through the Strait of Hormuz this afternoon," the statement by the IRGCN public relations said.
The statement added that the ship had been escorted to the Iranian coastal waters in Hormuzgan province and its control had been transferred to the Ports and Maritime Organization for further legal procedures and investigations.
According to Fars News Agancy, a statement by Stena Impero shipping firm had announced there were 23 crew onboard the UK ship, stating that there had been no report on any harm or injury to the crew members since the vessel came under detention by the Iranian forces.
Director-General of the Ports and Maritime Organization's office in Hurmuzgan province stated that he filed a request for the seizure of the British tanker by the IRGCN after reports on its risky moves that made the vessel prone to accident.
Sources told FNA that the British ship had switched off its tracking systems in violation of maritime rules and regulations and was making an entry from the exit point of the Strait of Hormuz in the South, disregarding the established procedures that require all entries be made through the Northern pass.
Director General of the Ports and Maritime Organization's office of Hormuzgan province Allah Morad Afifipour stated that the British oil tanker was seized because it ignored calls from a fishing boat after an accident in the waterway.
"The British oil tanker, Stena Impero, had an accident with a fishing boat on its way and according to the law, the reason and other issues related to the accident should be studied," Afifipour told FNA.
He added that sailors on the damaged fishing boat had contacted the British vessel, but the tanker had ignored their calls.
"When the British vessel did not respond to the fishing vessel, they informed Ports and Maritime Organization's office of Hormuzgan province according to the legal procedures," Afifipour said, noting that his office had requested the Judiciary and the IRGC to stop the British tanker.
847/940
Please type in your comments in English.
The comments that contain insults or libel to individuals, ethnicities, or contradictions with the laws of the country and religious teachings will not be disclosed