Service :
21 July 2019 - 20:20
News ID:

446067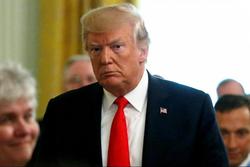 President Donald Trump on Friday stepped up his attacks on four progressive congresswomen one day after distancing himself from inflammatory chants at his campaign rally, making clear he has no intention of backing off the strategy.
RNA - In a trio of morning tweets and a pair of media appearances, Trump painted Democratic Reps. Alexandria Ocasio-Cortez (N.Y.), Ilhan Omar (Minn.), Rashida Tlaib (Mich.) and Ayanna Pressley (Mass.) as anti-American and anti-Semitic, The Hill reported.
"I don't know if it's good or bad politically. I don't care," Trump told reporters of his attack against the group of Democratic lawmakers, known as the "Squad", as he departed the White House for a weekend in New Jersey.
"Many people say it's good. I don't know if it's good or bad," he continued, adding, "I can tell you this: You can't talk that way about our country. Not when I'm the president."
Trump on Friday again accused the four congresswomen of hating the US and said Omar is "lucky to be where she is".
The attacks capped off a tense week that began with the president tweeting that the four congresswomen should "go back" to where they came from, even though they are all US citizens, and was marked by a campaign rally where Trump's supporters chanted "send her back" about Omar, who came to the US as a Somali refugee.
The American president signaled that he views his battle with the four minority congresswomen as politically advantageous and that he can tie the rest of the Democratic Party to their views heading into an election year.
"These women have said horrible things about our country and the people of our country. Nobody should be able to do that, and if they want to do that, that's up to them," Trump said as he left for New Jersey, adding, "But I can't imagine they're going to do very well at the polls."
"If the Democrats want to embrace people that hate our country… that's up to them," Trump continued, noting, "But I don't have to do that. I think what they say and what they've said is a disgrace to them, to the Democrats and, frankly, to our country."
The renewed broadsides came a day after Trump offered a tepid denunciation of the chant directed at Omar, saying he "was not happy" and that he "disagreed with it".
By Friday morning — after a flood of media coverage devoted to the chants, Omar's response and the warm welcome she received at a Minnesota airport — Trump shifted back into attack mode.
He complained on Twitter that the "crazed" coverage of the "send her back" incident was disproportionate to the airtime given to the congresswomen's "disgusting statements".
Later in the day, flanked by Apollo 11 astronauts Buzz Aldrin and Michael Collins, Trump used a question about the rally chant to again target Omar.
"I'm unhappy when a congresswoman goes and says, 'I'm going to be the president's nightmare'," he added, referencing comments Omar made upon arriving back in Minnesota.
"She's going to be the president's nightmare. She's lucky to be where she is, let me tell you. And the things that she has said are a disgrace to our country," he said.
Footage of Omar arriving back at the Minneapolis-Saint Paul airport went viral on Thursday, where she was greeted with chants of "welcome home".
"We are going to continue to be a nightmare to this president, because his policies are a nightmare to us," Omar told the crowd, stating, "And we are not deterred, we are not frightened, we are ready."
Before departing the White House for New Jersey, Trump spent most of his 15 minutes with reporters fielding questions about his feud with the "Squad" and refusing to back down.
He called them anti-Semitic and referenced Omar's resolution declaring support for the anti-Israel boycott, divestment and sanctions movement. Omar earlier this year prompted allegations of anti-Semitism in saying those who press for supporting Israel were pushing "allegiance to a foreign country".
The president repeatedly asserted that one of the congresswoman had called the country "garbage". It's unclear who he was referencing, but none of the lawmakers have used the term to describe the US in its current form. Ocasio-Cortez suggested in a March interview that the US is 10% better than the "garbage" of the past, but that the country should strive for better.
Some in the administration and the Republican Party have taken issue with the increasingly vitriolic tone of the past week, and worry that Trump may inadvertently aid the Democrats by wading into such personal attacks.
A group of House Republican leaders told Vice President Mike Pence at a breakfast meeting Thursday they were disturbed by the "send her back" chants and urged him to ask Trump to rein in his rhetoric.
"I found the chanting and the chants to be offensive," Sen. Mitt Romney (R-Utah) said, adding, "Very unfortunate for my party but also for our country."
But Trump has been unbothered by the blowback, and on Friday brushed off the notion that his closest allies had encouraged him to disavow the chants of "send her back" that rang through his Greenville, N.C., rally.
He called reports that first lady Melania Trump and his daughter and senior adviser Ivanka Trump counseled him in the aftermath of the campaign event "fake news," and told reporters he would counter the congresswomen's First Amendment rights to speak out with his own right to respond.
847/940
Please type in your comments in English.
The comments that contain insults or libel to individuals, ethnicities, or contradictions with the laws of the country and religious teachings will not be disclosed