Service :
12 June 2019 - 14:49
News ID:

445379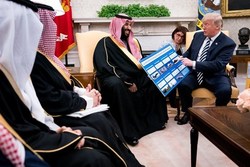 President Donald Trump's veto of a congressional resolution to end US military assistance for Saudi Arabia's war in Yemen has only meant more suffering and death for millions of people in the war-torn country.
RNA - If Trump was truly concerned about civilian lives, he would ensure that the US-supported Saudi-led coalition stop breaking the laws of war and depriving millions of Yemenis of life-saving assistance. The US is deepening and prolonging the crisis and civilians are paying the price.
The Saudi-led coalition has been at war with Yemen's Army and Ansarullah Movement since 2015. The conflict has killed tens of thousands of people, fueled a major cholera outbreak and driven the Arab world's poorest country to the brink of famine.
Increased fighting and blockade in Northern Yemen in recent months is also causing new waves of displacement. The intensification of the fighting near the border with Saudi Arabia has caused a massive new wave of displacement. Since last year, many people have relocated to other parts of the region, joining many others who have fled earlier fighting. It is difficult to trace them because there are no formal camps for internally displaced people. They are scattered across a very large area. Sometimes there are groups of refugees living under basic plastic sheets that they buy or that are donated to them. Other times they are mixed with local communities. In any case, they all live in very precarious conditions.
The majority do not have access to health services because, after several years of conflict, there are few health centers open in the country. Many health centers are no longer functional or are open for only a few hours a day with just a nurse or a small staff. Those working in the health centers have not received salaries for more than two years and work without adequate medical supplies. The health system can't respond to the needs of displaced people.
At the same time, international aid groups are severely restricted in the assistance and can offer in the places that are absorbing newly displaced communities. In addition to this, in recent months the Yemeni currency, the rial, has lost a lot of value as inflation has risen, causing fuel and transportation costs to increase. This has made it unaffordable for many people to reach hospitals.
It is important that the few medical organizations that are supporting the Ministry of Health on the ground gain more access to address the needs of vulnerable displaced communities. But they can't because the Saudis and their proxy forces do not allow them to commute.
In areas where the security situation and the Saudi-led coalition forces allow, there is a network of community health workers who manage a referral system for the most severe cases. Currently they focus on areas with new settlements where the most basic services are missing.
According to Fars News Agancy, the worsening blockade and fighting are undermining the capacity of NGOs on the ground to provide relief, water and sanitation services, food, and more. High inflation, linked to the rapid devaluation of the rial, import restrictions, blockade, can have an impact on the nutritional status of the population. Aid workers continue to receive many cases of easily preventable diseases, such as diphtheria. This shows that the impact of the war on the deteriorating health system is increasingly affecting vaccination coverage.
The Saudis have not suddenly woken up and realized that the illegal war is causing too much suffering without adequate prospect of strategic gain. Saudi Crown Prince Mohammed bin Salman sees Yemen as a defining battleground for regional hegemony.
And if you want to understand how a US withdrawal of military support would affect the Saudi war effort, look no further than President Bashar Assad's Syria. The Saudi coalition has far more advanced weapons platforms than the Syrians, but it lacks the integrated command and control, intelligence, targeting, communications, and logistical skill to employ its military effectively. The US has been absolutely critical in filling in the gaps in these areas in Yemen.
And although the Saudis are still too capricious with their use of force, American guidance has helped them target civilians and Ansarullah formations in entire city blocks with a few forces somewhere inside those blocks. Again, motivated by their historic, cultural, and theological blood feud with Yemen, the Saudis would care little about killing thousands more civilians if they believed it might win the war. America claims it is the only check on them at this moment. However, as demonstrated by the rising number of civilian casualties in Hodeida and elsewhere, that check hasn't held.
The simple reality of the Saudi-led war on Yemen is that it has become worse due to the US engagement and Trump's veto. Trump exaggerates the degree to which Saudi Arabia is a constructive, stable partner for the US in the broader Middle East. Still, he is right on the fundamental issue: that the US needs a Saudi Arabia that can be "milked" indefinitely. His veto has only decorated Yemen with more civilian blood. He must be laughing all the way to the bank.
847/940
Please type in your comments in English.
The comments that contain insults or libel to individuals, ethnicities, or contradictions with the laws of the country and religious teachings will not be disclosed