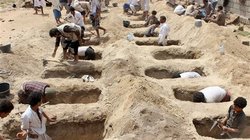 According to the head of the UN Children's Fund (UNICEF), the time is now for the international community to take action to end four years of fighting which has left at least 7,300 children killed or seriously injured.
RNA - Henrietta Fore says, "These are verified numbers. Fifteen million children are asking for help. Imagine the pain endured by the families of the children who never made it home. In any conflict, children suffer first."
This is while despite the fragile peace process around 360,000 children suffer severe acute malnutrition, and half of them under-five – or 2.5 million – have stunted growth, an irreversible condition. More than two million are out of school. In short, the UN says the systems that every child and family needs are failing.
Also, too many children are dying as a result of explosive weapons and Saudi airstrikes. The devastating toll that the armed conflict has had on children psychologically and physically should provide enough urge among the international community to further resources and political commitment to protect them. And protecting them would only come if the US-backed, Saudi-led war on Yemen is immediately brought to an end.
International law makes clear that everyone has a responsibility to make sure children are protected in this protracted war. Yet the war, the blockade and explosive weapons continue to kill, maim and terrorize millions of children. To make things worse, the Saudis and their allies are not doing anything to stop their airstrikes and abide by this important moral principle to protect children.
The UN in numerous reports has called on the Saudi-led coalition to adhere to the humanitarian laws and norms and human rights provisions that are there to protect Yemeni children. Some Western government which support Saudi Arabia militarily and with weapons have also been underestimating the harm done to children by their logistical support for airstrikes and bombings in densely populated urban areas. And attacks that cause disproportionate civilian harm are illegal under international law.
In fact, children are seven times more likely to die from blast injuries than adults involved in the fighting. The same is happening in Afghanistan. In that war-torn country, explosive weapons are also the cause of death in 84 percent of child conflict fatalities compared to 56 percent of civilian adult deaths. In the besieged city of Gaza, all reported child fatalities by Israeli airstrikes and shelling are the result of explosive weapons as well.
Just earlier this week, Saudi-led coalition airstrikes in Yemen's capital Sana'a killed several children. Children are also 50 percent more likely to be victims of a blast injury after airstrikes are over as they are finally able to go outside and play again. Not only do such experiences leave an emotional scar, but also injured children are more likely than adults to suffer more complex internal damage.
According to Fars News Agancy, without ending the protracted war and in the absence of necessary care, these children will live with life-lasting consequences. The sad reality is most medics and international aid agencies just haven't been able to get to the blockaded regions to treat children injured by airstrikes, and even when they reach there, there are no hospitals and medical facilities to house them as they have all been bombed by Saudi warplanes.
For four years we have seen children dying in Yemen in airstrikes or from hunger, malnutrition and disease. The tragedy is these deaths could have been prevented with basic medical treatment and facilities.
It highlights the need for the UN to ensure Saudi Arabia and its allies adhere to international law and standards, including the suspension of airstrikes and arms sales, hold perpetrators to account, and provide children with necessary, practical assistance. Ending the conflict is a practical step that will save countless lives.
The bottom line is that the Saudis and their allies need to stop treating Yemeni children as though they are adults in miniature. Evidence on airstrikes and blast injuries shows children are the main victims of this unjustified war. This should be reflected in how the US-backed, Saudi-led airstrikes and bombings could be stopped - and how UN agencies responsible for investigating their war crimes could review the evidence in the international court of law.
847/940
Please type in your comments in English.
The comments that contain insults or libel to individuals, ethnicities, or contradictions with the laws of the country and religious teachings will not be disclosed