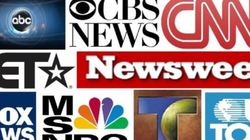 First it was WikiLeaks co-founder Julian Assange who was evicted from the Ecuadorian Embassy in London and arrested on April 11. Prosecutors in the United States have now filed charges against Assange, and he is expected to fight the extradition tooth and nail.
RNA - Then it was Google which blocked the accounts of Iranian Hispan TV and Press TV (yet again) on their platforms including Youtube and Gmail, without prior notice, citing alleged "violation of policies". Google's actions coincided with the White House's Monday, April 22 announcement that it would not reissue sanctions waivers to countries that purchase Iranian oil after they expire in May.
On that note:
A- This comes amid tough times for journalists in the United States, particularly for those who criticize President Donald Trump and his government's domestic and foreign policies – mainly the ones that violate international treaties, support atrocities committed by Israel and Saudi Arabia, ban migrants and families from living in the US, and wage trade and economic wars against allies and foes.
B- Criticism of Israel and Saudi Arabia, widespread use of security and surveillance law, as well as endless wars and occupations in Muslim heartlands are red line that independent journalists and international foreign media outlets must not cross, either. It raises the question of how far the Trump administration is prepared to go to wreck the global rules-based system.
C- Despite the claims, what we see from Trump and his neocon followers has been and still is the use of unilateral, security and surveillance laws to limit the space for free expression at home, and ban foreign media and investigative journalists abroad. The situation is so bad that the Freedom House says "the US has in recent years had the largest decline in press freedom in any regions." Reporters Without Borders also cites anti-press rhetoric coming from the White House as one of the reasons for the continued decline of press freedom in the US.
D- Although US hostility, threats, bans and arrests have created a precarious situation for independent media outlets and journalists, that does in no way mean a full and honest accounting of global challenges and crises fueled by Washington is not needed. It must be added here that although the US does not have a state-controlled media like Iran, China and Russia, it does suffer from a Zionist-run corporate monopoly of most media sources.
E- There is no press freedom in the United States. We are seeing some very troubling attacks against domestic media and against the idea that international journalists and TV channels like those in Iran should be free to express their views about destructive policies pursued by the US government and allies in the Middle East and beyond.
F- Trump has undermined and voided various international organizations and multilateral agreements. He has withdrawn from the climate change accords, UNESCO, the Human Rights Council, and the Trans-Pacific Partnership trade deal, undermined the International Criminal Court and cut funding for UNRWA. He has also pulled out the of the 2015 nuclear deal with Iran and rendered the Palestinian-Israeli peace talks even more obsolete. On Syria and Yemen, he has played a key role in fueling the twin humanitarian crises for profit and for Israel.
According to Fars News Agency, Trump and his neocon followers still continue down this destructive path, and there should be implications for them. It is, therefore, the duty of international news organizations and independent media outlets to promote accountability for the US government and its authoritarian leader's destructive unilateral foreign policy. They must be courageous unyielding advocates for truth in the world. A good start would be to shield international law and multilateralism modeled after the Charter of the United Nations. Protection of truthtellers and independent news channels should be a main focus for such a global campaign, too.
The time is now for all independent reporters, international publishers and news channels to make covering issues of the US unilateralism and atrocities the main priority. After all, the Trump administration's objective of an all-out assault on multilateralism and independent media is not to retreat into isolationism, but rather to dismantle the remaining legal restraints on its freedom of action and shift toward robust unilateralism and "America First" policy.
847/940
Please type in your comments in English.
The comments that contain insults or libel to individuals, ethnicities, or contradictions with the laws of the country and religious teachings will not be disclosed