Service :
27 April 2019 - 16:14
News ID:

444488
Academic: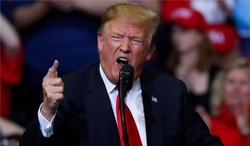 President Donald Trump's attempts to impose US laws on other countries are doomed to failure as China, Russia and India are not going to abide by unilateral American sanctions against Iran, according to James Petras, an American writer and academic.
RNA - Israeli Prime Minister Benjamin Netanyahu on Monday praised Trump for not renewing waivers that allowed eight countries to buy oil from Iran without getting sanctioned.
Netanyahu said that Trump's decision "is of great importance for increasing pressure" on Iran.
The White House made the announcement earlier in the day saying "Trump has decided not to reissue Significant Reduction Exceptions (SREs) when they expire in early May."
"This decision is intended to bring Iran's oil exports to zero," White House press secretary Sarah Huckabee Sanders said in a statement. The waivers were scheduled for renewal on May 2.
Last November, the US enforced sanctions targeting the Islamic Republic's banking and energy sector. However, it agreed to grant waivers to China, India, Japan, Turkey, Italy, Greece, South Korea and Taiwan, allowing them to continue buying Iranian oil.
'Trump and Israel trying to overthrow Iran govt.'
"It's very clear that Trump and Israel are leading the charge to try to overthrow the elected government in Iran. The purpose of the sanctions and now the attempts to impose US laws on other countries is doomed to failure," said James Petras, a retired professor who has published on political issues with particular focus on Latin America, the Middle East and imperialism.
"Turkey has already declared that it's not going to abide by the US dictates, certainly China will not, Russia will not; the question of India – India is in the middle of an election and the government certainly does not appear to be a lackey of Washington -- so it's likely that [Prime Minister Narendra] Modi will not abide by these unilateral impositions and the attempts to impose the US power extraterritorially," he added.
"So I think this is going to be another failure for the United States in trying to intervene in the relationship between Iran and its customers, its clients, its business associates. Now I think it's clear that Washington is moving towards a very aggressive position towards the European Union and its relation with Iran. It already has influenced some oil companies, Total in France and others," the analyst said.
"There may be some response to Trump from some corporations particularly those that have business relations with the US. But overall I think it is going to demonstrate once again that the US attempting to impose its order, its policies and its sanctions on the countries that are independent and are not likely to follow its orders," he stated.
"This is repeating what the US has faced in Syria, and in Venezuela, other countries which have developed alternatives to relations with the US," he noted.
"The end result will be: first, an increase in oil prices in the United States which will harm the consumers and perhaps create an angry climate because it is affecting US pocket book. And this is not something which the US is looking forward to," the academic observed.
847/940
Please type in your comments in English.
The comments that contain insults or libel to individuals, ethnicities, or contradictions with the laws of the country and religious teachings will not be disclosed