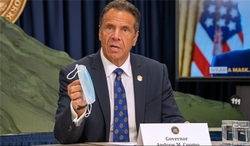 New York Gov. Andrew Cuomo blasted President Donald Trump on Wednesday for pressuring state officials to reopen schools this fall, saying the federal government doesn't have any authority over the matter.
Rasa - "School reopenings are a state decision. Period. That is the law, and that is the way we're going to proceed. It's not up to the president of the United States," Cuomo stated during a news briefing in Albany, CNBC reported.
"The president does not have any authority to open schools. We will open the schools if it is safe to open the schools. Everybody wants the schools open," he added.
On Tuesday, Trump — joined by first lady Melania Trump, Vice President Mike Pence and second lady Karen Pence at the White House — said he would pressure states to reopen schools this fall. Although dozens of states are struggling to contain a resurgence in COVID-19 cases, the president called for schools to open in August and September.
Trump ramped up his campaign earlier Wednesday, threatening to withhold federal funding from schools that don't resume in-person classes this fall.
Meanwhile, Cuomo noted he will announce the state's decision in August on whether schools will open after thoroughly reviewing public health data and reopening plans from local school districts.
The governor added he has been consulting with educators and others on how schools should reopen in September.
By July 13, the state hopes to finalize its guidance so that local school districts can submit their reopening plans by the end of the month. Between August 1 and August 7, New York will make an announcement on its decision, Cuomo continued.
"The test that I bring to all of these things, day camps, overnight camps, is my child test. I am not going to ask anyone to put their child in a situation that I would not put my child in, and that's how I make these decisions," he said, adding, "If it's not safe for my child, it's not safe for your child. So we'll get that data, and we'll make that decision in August."
New York City Mayor Bill de Blasio announced earlier Wednesday that the city's public schools, the nation's largest school system, won't fully reopen this fall.
The district, which has 1.1 million students, will use a combination of in-person class and remote learning, he said. The "vast majority" of students will attend in-person class for two or three days each week, de Blasio said.
Cuomo said reopening schools is closely tied to economic reopening, adding, "You can't really reopen the economy fully if you have the schools closed."
"The federal government has no legal authority when it comes to school openings. This is just a redux of what the president did on the economic reopening," he added.
New York continues to slowly reopen its economy in phases. New York City began its phase 3 reopening on Monday, which allowed for nail salons, spas, tattoo parlors and other businesses to return. Long Island is expected to enter phase 4 reopening Wednesday.
The state reported Wednesday 841 hospitalizations, 11 deaths and 97 intubations, the first time that number fell below 100 since March 16. It conducted 57,585 coronavirus tests on Tuesday, according to Cuomo.
The governor pointed to Texas, Florida, California and Arizona as states that are currently seeing record single-day spikes in coronavirus cases due to reopening too soon and too fast.
"We now have a tale of two different kinds of states. Thirty-six states are seeing an increase in the COVID infection rate," he added.
On Monday, Cuomo said Trump is exacerbating the coronavirus pandemic by playing down the problem and telling Americans they don't have to wear a mask. He noted that Trump could help curb the outbreak in the US by simply acknowledging the problem and by wearing a mask in public.
"He wants to deny the COVID virus. He has from day one. 'Well, it's just like the flu. Well, it's going to be gone by Easter. It's going to get warm and disappear like a miracle.' He's said all of those things, and none of them were true," he stated.
Please type in your comments in English.
The comments that contain insults or libel to individuals, ethnicities, or contradictions with the laws of the country and religious teachings will not be disclosed