Virtual rally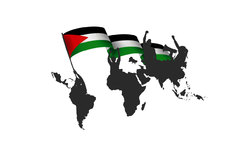 As Israel moves closer to formally annex parts of the occupied West Bank, solidarity in the Global South has been uniting in resistance.
RNA- As Israel moves closer to formally annex parts of the occupied West Bank, solidarity in the Global South has been uniting in resistance.
A collective Global South Response, a common statement from Africa, Asia and Latin America, is gaining force in response to the Palestinian civil society call upon the international community to impose effective counter measures against Israel, including targeted sanctions, ending trade ties and legal action.
Join the Virtual Rally - "Global South in Solidarity with Palestine - Challenge Israel's Apartheid and Annexation Plan": On Saturday July 4 at 4pm Palestine time (3pm South Africa/CET, 10am Brazil, 9pm Philippines) groups will internationally launch the Global South Response. Join via this Zoom Link!
On June 19th, South African civil society, led by the South African BDS Coalition, launched a global south statement against annexation. This call demands adoption of a UNGA resolution for targeted and lawful sanctions against Israel, updating of the UNHRC database of companies doing business in illegal settlements, promotion of the UN Special Committee on Apartheid and supporting the International Criminal Court probe into Israel's war crimes. The endorsers commit to pressuring their governments to take concrete and diplomatic action towards these demands.
This statement has already received a powerful set of endorsements including from former South African President Kgalema Motlanthe, former Mozambican Minister of State Administration Oscar Monteiro, former UN High Commissioner for Human Rights Navi Pillay, General Secretary of the South African Federation of Trade Unions Zwelinzima Vavi, Retired Judge of SA Constitutional Court Zak Yacoob and former Commissioner at SA Human Rights Commission Pregs Govender. Support for this statement has also come in from South African academics, religious figures, trade unions and veterans of the anti apartheid struggle.
The leadership from South Africa emanates from the brave and historical struggle against apartheid. They have also been among the first to recognize Israel as an apartheid state.
This statement is now gaining traction among leaders and civil society figures across the continents of Asia, Africa and Latin America. It is the connected histories of struggle against racism and colonialism that connect the vast and diverse region, and inform the organic solidarity to Palestine.
As part of this effort, the South African BDS Coalition is organizing a virtual rally on July 4th. This rally will have among its speakers Mandla Mandela, MP, South Africa; Celso Amorim, ex Foreign Minister, Brazil; Karol Cariola, MP, Chile; Phakamile Hlubi-Majola, spokesperson for the National Union of Metal Workers, South Africa; Rajmohan Gandhi, ex MP and diplomat, India; and Right Honourable Syed Ibrahim, MP, Malaysia among others. Omar Barghouti, co-founder of the Palestinian Boycott, Divestment and Sanctions movement will be the keynote speaker. The rally will also have poetry and cultural performances.
Please type in your comments in English.
The comments that contain insults or libel to individuals, ethnicities, or contradictions with the laws of the country and religious teachings will not be disclosed