Service :
23 February 2020 - 20:31
News ID:

449247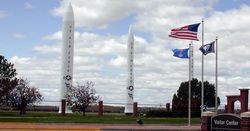 Russian Deputy Foreign Minister Sergei Ryabkov has lambasted as a "dangerous game' the United States' simulation of a nuclear war with Russia in a recent military drill, saying Washington is determined to pursue the path of confrontation with Moscow.
RNA - "The United States continues a series of command-staff exercises and other drills involving the simulation of limited nuclear strikes, particularly - as it became known recently - on targets in Russia," the state-run TASS news agency quoted Ryabkov as saying on Saturday.
His remarks were made in reaction to what a senior Pentagon official told reporters on Friday about a "mini exercise" the US military conducted earlier this week at the US Strategic Command headquarters in Nebraska.
According to the US official, the scenario "included a European contingency where you're conducting a war with Russia and Russia decides to use a low-yield, limited nuclear weapon against a site on NATO territory." He added on Friday that "during the course of the exercise, we simulated responding with a nuclear weapon."
The Pentagon official also confirmed that the showdown had been performed in the presence of US Secretary of Defense Mark Esper.
Elsewhere in his remarks on Saturday, Ryabkov censured the provocative drill conducted by the US and warned about its determination to lower the threshold for employing nuclear arms in a possible confrontation with Russia.
"We condemn such actions because they clearly show that Washington is determined to pursue the path of confrontation and keep lowering the threshold for the use of nuclear weapons," he stressed.
Ryabkov also warned that Washington was "embarking on a highly dangerous game instead of focusing on efforts to strengthen the arms control system that would also cover nuclear weapons."
Additionally, the Russian deputy foreign minister stressed that the Russian Federation would use "nuclear weapons" only in "two exceptional cases", if it faced an aggression with "weapons of mass destruction" or an attack which involved "the large-scale use of conventional arms that puts the country's existence at risk."
Nevertheless, Ryabkov reiterated a "well-known formula", which Russia has resolutely followed since the Soviet era, "that there can be no winners in a nuclear war and it should never be unleashed."
Last year, the landmark Intermediate-Range Nuclear Forces Treaty (INF) collapsed after Washington pulled out of the 1987 bilateral deal with Moscow. The INF had banned all land-based missiles with the range of up to 5,500 kilometers.
The withdrawal from the agreement came after Washington accused Moscow of secretly violating it. Russia, which has repeatedly rejected these allegations, stopped implementing the INF after the pullout.
Late last year, Russian President Vladimir Putin warned that nothing could hold back yet another arms race and thus international security would be damaged if the Strategic Arms Reduction Treaty (START) with the US was not renewed.
According to Press TV, the START accord is the last major nuclear arms control treaty between Moscow and Washington that puts a limit on the development and deployment of strategic nuclear warheads of both countries.
Back in July 1991, START, which later was called START I, was signed by then US President George H. W. Bush and Mikhail Gorbachev, the last president of the Soviet Union, barring both countries from deploying more than 6,000 nuclear warheads atop a total of 1,600 intercontinental ballistic missiles (ICBMs) and bombers.
In January 1993, President Bush and Boris Yeltsin, the former Russian president, signed START II, but it collapsed and never entered into force.
The START I treaty expired in late 2009 and its replacement, called the New START or START III, was signed in April 2010 by former US President Barack Obama and then Russian President Dmitry Medvedev, under which both sides agreed to halve the number of strategic nuclear missiles and restrict the number of deployed strategic nuclear warheads to 1,550.
The New START can be extended for another five years, beyond its expiry date in February 2021, by mutual agreement.
847/940
Please type in your comments in English.
The comments that contain insults or libel to individuals, ethnicities, or contradictions with the laws of the country and religious teachings will not be disclosed