Service :
23 February 2020 - 12:03
News ID:

449226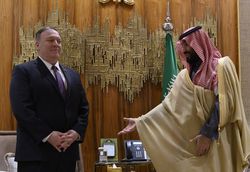 An American scholar says the Trump administration, which is run by the gangsters whose headquarters are in Tel Aviv and occupied Jerusalem al-Quds, wants to continue to divide and conquer the Islamic world.
RNA - Kevin Barrett, an author, journalist and radio host with a Ph.D. in Islamic and Arabic Studies, made the remarks in an interview with Press TV on Friday while commenting on US Secretary of State Mike Pompeo's visit to Saudi Arabia.
Dr. Barrett said that Pompeo "is pushing the usual line, that is that Saudis need to keep up their hostility towards Iran. And the first reason he gives is he says that Iran is dedicated to wiping Israel off the map."
"Now why anybody in Saudi Arabia would be worried about trying to protect the Zionist settler colonial project that is committing atrocities and indeed genocide in occupied Palestine, and insulting and humiliating the entire Islamic world by committing these atrocities in the Holy Land, which has been administered by Muslims, virtually ever since Islam existed?" he asked.
"Why the Saudis who were supposed to be the guardians of the holy places, would object to anybody wanting to put an end to the Zionist project is completely unfathomable?" he continued.
What is Christian Zionism
"But Pompeo like most American leaders is completely unable to think beyond his own narrow perspective. Americans these days are very poorly educated, and some of their leaders are even more mis-educated than the average people -- Pompeo certainly qualifies. Pompeo is a so-called Christian Zionist, meaning he's part of a cult movement that wants to bring Jesus back by committing genocide in the Holy Land," Dr. Barrett said.
"And if enough atrocities are committed in the Holy Land, then according to these people, Jesus will return to Earth and murder everybody in a nuclear war and save the people who are part of the Christian Zionist movement by beaming them up perhaps to spaceships. It's unclear precisely how this would work, but this is the fanatical millenarian, messianic belief of this movement that Pompeo belongs to," he noted.
Why was Soleimani assassinated
"So he's in Saudi Arabia, telling the Saudis to get on board with this war on Iran, for the sake of Israel. And the question is, will the Saudis continue to put up with this? According to the leadership in Iraq, General Qassem Soleimani, was murdered because he was not at peace mission to make peace between Iran and Saudi Arabia," the analyst said.
"Apparently, the Trump administration, which is run by the gangsters whose headquarters are in Tel Aviv and occupied Jerusalem, are probably unhappy with that possibility. It would ruin their chances of continuing to divide and conquer the Islamic world on behalf of the Zionist atrocities against the people of Palestine," he said.
"So whether Pompeo will be met with success in this trip in which, of course, he is spreading all sorts of anti-Iran propaganda, disparaging Iranian elections, even though there are no elections at all in Saudi Arabia and otherwise saying all sorts of nonsensical things remains to be seen," he observed.
"But this is just another example of the flailing and the clumsy, counterproductive efforts coming out of the Trump administration. These people just keep shooting themselves in the foot. And it looks like before they done not only the US presence in the Middle East, but the entire US Empire will have collapsed," he concluded.
847/940
Please type in your comments in English.
The comments that contain insults or libel to individuals, ethnicities, or contradictions with the laws of the country and religious teachings will not be disclosed