Service :
15 December 2019 - 11:47
News ID:

448013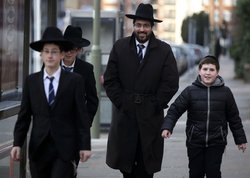 London, UK – Police in London have arrested a 48 year old man following an altercation on a TfL Bus in the Borough of Hackney. The suspect is alleged to have made antisemitic remarks towards a 36 year male as he was reading a prayer book whilst travelling to a location near Stamford Hill.
RNA - Following an investigation by the Metropolitan Police Service, the male was identified and arrested using CCTV evidence for a racially aggravated public order offence.
A further attack occurred on November 29th in the same London borough when two men threw a Rabbi to the ground shouting 'kill the Jews'.
Antisemitism is on the rise in the UK, and along with a similar problem of Islamophobia, as well as other prejudices against minority groups, the hatred that lies within the UK comes in a variety of forms.
Since the 1980's, the rise of far right groups such as The British National Party, The White National Party, and Britain First have all shown traits of far-right ideology, however, this has been taken to new levels by groups such as National Action and Combat 18, with the later in particular being a neo-Nazi terrorist organisation founded in 1992, and with the ideology of extreme far right rhetoric, going as far as being linked to murders of immigrants. Both have since been named as proscribed terrorist groups by the UK government.
But why is antisemitism in particular on the rise? The recent general election in the UK was marred by allegations that the Labour Party was institutionally antisemitic, with many Labour MP's resigning or defecting to other parties after sharing this sentiment. The election in Finchley and Golders Green was of particular importance as the former Labour MP, Luciana Berger switched to the Liberal Democrats in protest against antisemitism, and stood against the Labour candidate Ross Houston and the incumbent and eventual winner Mike Freer from the Conservatives.
The victory in Finchley and Golders Green was in part thanks to the large Jewish population that live there, with estimates suggesting around 40,000 residents in the Borough of Barnet identifying as Jewish. However, the rise in antisemitism appears to be stemming from the ever increasing demands of the Jewish people who are quick to turn every situation into an antisemitic incident, and make sure that the British establishment is firmly on their side from grassroots, to the corridors of Whitehall.
Private security patrols in the form of Shomrim and Community Security Trust in London and other UK cities with a high Jewish population are quick to bring attention to the eyes of those watching, and raises the question as to why certain neighborhoods are enjoying joint police patrols, and extra protection, whilst other, more under-privileged communities are suffering record numbers of crime and violence, as well as no extra levels of security to protect their streets.
In a nation that embraces equality for all, equal rights and freedom to practice any religion, why then is it that some communities and ideologies are being treated more equally than others? Could this be the reason that the rise in antisemitism has become so rife, or is there yet more to be uncovered?
847/940
Please type in your comments in English.
The comments that contain insults or libel to individuals, ethnicities, or contradictions with the laws of the country and religious teachings will not be disclosed