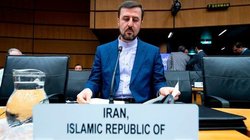 Iranian Ambassador and Permanent Representative to the International Organizations Kazzem Qaribabadi once again repeated Tehran's call for total elimination of all kinds of nuclear weapons, adding that the countries which own such weapons are responsible to abide by the Comprehensive Nuclear-Test-Ban Treaty (CTBT).
RNA - Addressing the 53rd CTBTO Preparatory Commission Meeting, Qaribabadi reiterated Iran's principled and permanent position on the importance of eliminating all kinds of nuclear weapons, adding that full realization of the CTBT objectives relies on nuclear weapons owners' compliance.
He also stressed supporting CTBT objectives.
"We believe that owners of nuclear weapons have a special responsibility in implementing the treaty, he said urging these governments to be committed to spirit and text of the treaty," Gharib Abadi added.
He emphasized that the need to create balance in allocating budget and human resources to all verification regimes categories and also improving capacity-building by the signatories, especially developing countries.
The 53rd session of the CTBTO Preparatory Commission started work in the attendance of signatories' representatives on Monday and will be underway until Wednesday.
The Comprehensive Nuclear-Test-Ban Treaty (CTBT) is a multilateral treaty that bans all nuclear explosions, for both civilian and military purposes, in all environments.
It was adopted by the United Nations General Assembly on September 10, 1996, but has not been enforced, as eight specific nations have not ratified the treaty.
Last month, Iranian Foreign Minister Mohammad Javad Zarif hailed the Leader's fatwa (religious decree) on banning production, stockpiling and using nuclear weapons, reiterating the country's firm opposition to the acquisition of the military nuclear capability.
"Iran's Leader has long made it abundantly clear that nuclear weapons are immoral and contravene Islamic principles," Zarif wrote on his twitter page on October 12.
According to Fars News Agency, he stressed that development, acquisition, stockpiling and using nuclear weapons is forbidden in Iran, saying, "We're categorically opposed to nuclear arms as a religious/moral duty and strategic imperative."
On April 17, 2010, Supreme Leader of the Islamic Revolution Ayatollah Seyed Ali Khamenei issued a fatwa declaring that the production, stockpiling, and use of nuclear weapons are all haram (religiously banned).
"Iran is not after a nuclear bomb. Why would Iran want a nuclear bomb? Moreover, when an atomic bomb is detonated, it does not just kill enemies. Rather, it kills innocent people as well, and this goes against Islamic beliefs and the principles of the Islamic Republic of Iran. An atomic bomb does not discriminate between good and bad people, and it is not something that the Islamic Republic would use. The Islamic Republic is relying on something that is not affected by bombs, foreign invasions and other such things. Such things only strengthen what the Islamic republic is relying on. The Islamic republic is relying on the people," a part of the fatwa said.
Earlier in October, Ayatollah Khamenei underlined his firm and serious opposition to Iran's acquisition, stockpiling and use of nuclear weapons, describing it as haram.
"Nuclear science is beneficial but since it's not been coupled with love for humanity, it led to nuclear disasters. Despite having the ability to develop nukes, we firmly and bravely avoided it, for building and keeping nukes, like using them, is haram," Ayatollah Khamenei said, addressing a group of academic elites and top scientific talents in Tehran.
847/940
Please type in your comments in English.
The comments that contain insults or libel to individuals, ethnicities, or contradictions with the laws of the country and religious teachings will not be disclosed