17 November 2019 - 22:07
News ID:

447711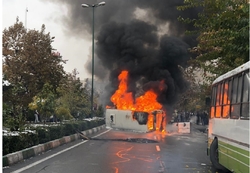 Riots by a small number who have taken advantage of legitimate public protests against the government's gas price hike plan in Iran are directed at sowing chaos through targeted attacks on public and private properties, forcing law enforcement to step in to stop saboteurs.
Early estimates of an intelligence body showed that a sum of nearly 87,000 protesters and rioters have taken part in protest rallies and gatherings since Friday night, mostly (over 93%) men. A large number of protesters have only been present in the gathering centers and avoided joining the rioters in sabotage attacks on public and private properties.
"The identical methods of the main core of violent rioters discloses that they are fully trained individuals who have been prepared and looking forward for the situation to rise, unlike most people who have been taken off guard by the sudden hike in gas price," the report said.
The report shows that gatherings have been comprised of 50 to 1,500 people held in 100 regions of the country out of a number of 1,080 major towns and cities. The report says violent raids and damage inflicted on properties has been larger than what happened in February 2018 unrests.
Most cases of damage to properties has happened in Khuzestan, Tehran, Fars and Kerman provinces. The report says most casualties have resulted from armed outlaws' attacks on oil storage and military centers, adding that a number of police and popular forces have been martyred in these attacks.
Nearly 1,000 people have been arrested across the country while over 100 banks and 57 big stores have been set on fire or plundered in just one province.
The Iranian intelligence ministry announced in a statement on Sunday that it had identified several rioters who misused the recent protest rallies against the gasoline price hikes to destroy public and private properties.
"The main culprits behind the riots in the past two days have been identified and proper measures are being adopted and the honorable nation will be informed about its result later," the statement said.
It added that the intelligence ministry will decisively confront those who foment insecurity and disrupt tranquility of people.
"Certainly, the enemies who have pinned hope on these riots will have no achievements but shame and embarrassment like the past," the statement underlined.
In relevant remarks earlier today, Spokesman of Law Enforcement Police Brigadier General Ahmad Nourian announced that the police forces will not allow insecurity and disruption of the general order during the protest rallies against the gasoline rationing.
"The Law Enforcement Police will act upon its natural and legal duty and will not compromise those who disrupt the order and security and will identify and confront the ringleaders and their field agents," General Nourian said on Sunday.
He referred to the Friday and Saturday rallies to protest at the hike in prices and rationing of gasoline in Iran that in some cases turned violent, and said the police will act upon its responsibilities to restore tranquility and security based on people's demands.
Reports on Friday and Saturday said crowds of 50 to 150 people staged gatherings in Mashhad and Sirjan and some cities of Khuzestan province to voice protest against the unexpected 50% rise in gas prices, adding that protesters dispersed after talking with police and other citizens who invited them to preserve peace and calm.
Some small gatherings were formed in some cities of Iran on Friday evening and Saturday in protest at a 50% rise in gas price which was put into practice earlier at midnight.
According to reports, the protests were more in Sirjan in Kerman province, and some cities in Khuzestan province.
In Ahvaz, the provincial capital city of Khuzestan, some gatherings of 100 to 150 were formed in different spots in the city where protesters chanted against the 50% increase in the gas price.
The protests subsided after police and a number of citizens mediated and demanded calm, but traffic congestion caused by the gatherings cleared later.
A similar traffic problem was reported in Mashhad, but the situation is reported calm and peaceful in the early hours of Saturday.
In Sirjan, a city in Southeastern province of Kerman, a similar story happened, but new reports recount that peace and order has been restored.
The majority of reported protests were staged by crowds of 50 to 150 who chanted nothing political but against the sudden rise in the gas price.
Most of the protests could be followed through social networking websites and the internet, while Europe-based anti-Iran media were trying to create a hype with unfounded claims about harsh "crackdown". The same anti-Iran sources later claimed an internet cut off, but immediately started to re-play videos and photos from February 2018, claiming that these footages are new and recent and have been sent to them live from Iran.
Yet, the anti-Iran media push to call for massive, nationwide protests was declined by Iranians, and new reports from Saturday morning show that all cities in Iran are in full swing of the first day of the week in the country.
Very late on Thursday, the National Iranian Oil Products Distribution Company (NIOPDC) issued a statement to recount details for new prices of fuels in the country, which was followed by another statement in early on Friday by Vice-President and Head of the Management and Planning Organization (MPO) Mohammad Baqer Nobakht who said that the revenues will be allocated to offering subsidies to 60 million people.
According to the new pricing echelon, the subsidized fee of 10,000 rials (almost 8.3 cents) per liter is increased to 15,000 rials (almost 12.5 cents) per liter, a 50% rise, which is offered at a limited rate of 60 liters per month, a rationing that did not exist for the last 6 years, for private cars with a rationing card.
However, the price for non-rationed supply of the gas is still subsidized and below the level of price offered in majority of the neighboring countries. The non-rationed price is set at 30,000 rials (almost 25 cents) per liter and there is no limitation for buying non-rationed fuel.
The statement, further added that the price for the compressed natural gas (CNG) and diesel gas will remain unchanged.
According to Farsnews the announcement of the NIOPDC was issued, MPO Head Nobakht said, in a statement that all the revenues collected from the increase in gas prices will be allocated to increase help packages which are offered to 18,000,000 households of 60,000,000 million people.
The move is hoped to demotivate fuel smugglers who come up with very creative methods to smuggle the fuel out of Iran to neighboring countries.
847/940
Please type in your comments in English.
The comments that contain insults or libel to individuals, ethnicities, or contradictions with the laws of the country and religious teachings will not be disclosed