Service :
21 October 2019 - 23:49
News ID:

447530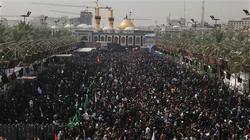 Millions of people from around the world travel to Iraq each year to partake in the annual Arba'een processions, which over the past years have grown into the largest human gathering of any kind.
RNA - The decades-old event marks the 40th day after the anniversary of the martyrdom of Imam Hussein and 72 of his companions in the Battle of Karbala, in southern Iraq, in 680 AD after fighting courageously for justice against the much larger army of the Umayyad caliph, Yazid I.
Each year, to mourn their third Imam, Muslims set off on a symbolic 80-kilometer walk that begins from Najaf, where his father Imam Ali is buried, to the holy city of Karbala, where Imam Hussein's holy shrine is located.
Accommodating the pilgrims along the road, as well as in both Najaf and Karbala, are thousands of make-shift tents, also known as mawkibs, that provide a wide range of services from food to medical care and massages -- all free of charge.
The event has over the past few years attracted global attention following the emergence of the Daesh terrorist group, which sought to raze all historically and religiously significant sites in Iraq and Syria under the influence of their Takfiri-Wahhabist ideology.
Despite the global attention that it has received and its sheer size, however, most Western media adamantly give the Arba'een gathering as little coverage as possible. Compare this with the wide coverage they give to rare scenes of flagellation by a tiny number of individuals during Ashura - a practice strictly prohibited and admonished by top religious figures.
Unofficial sources suggest that this year's Arba'een walk was the largest to date, with some 21 million in attendance between October 4 and 19.
Of that number, 17 million people were Iraqi citizens, a whopping 40 percent of the country's population. That's also 75 percent of the Arab country's Shia Muslims in total.
On Saturday, the day of Arba'een, more than 15 million people converged on Karbala
Overall, people from more than 70 countries took part in this year's Arba'een. Over 3.5 million Iranians used several border crossings with the neighboring Iraq to take part in the event.
Pakistan had the third largest number of pilgrims at 500,000. People from India, Azerbaijan, Turkey, Afghanistan, Lebanon, Kuwait, Bahrain and Saudi Arabia also attended in high numbers.
The Arba'een walk of this year was also unique in that it had 500 different starting points from various cities and villages across Iraq. This is unmatched by any other rally in the world.
This year's Arba'een walk also covered more than 2,000 kilometers of roads across Iraq, forming the largest ever rally trail in history.
More than 100,000 mawkibs, rest places and mosques formed the world's largest network to serve this year's Arba'een pilgrims, providing them with food, water, long-distance phone calls, personal hygiene, medical services and security.
The organizers, who were mainly comprised of Iraqi citizens as well as nationals of other countries, dished out some 125 millions of meals, 150 million liters of water and more than 500,000 tonnes of fruits and vegetables. That's an average of some 8 million meals a day for 15 straight days.
More than 600,000 medical doctors, engineers, chefs, construction workers, drivers, translators and religious scholars from around the world volunteered to serve Arba'een pilgrims completely free of charge.
Thousands of Imam Hussein's devotees among Sunni Muslims, Christians and Mandaeans also took part in this year's Arba'een walk.
Overall, people donated more than $500 million to this year's processions, more than $100 million of that was funded by the people of Najaf.
The donations ranged from 250 Iraqi dinars (20 cents) to 650 million Iraqi dinars ($500,000).
Security was jointly provided by the Iraqi army and police. The pro-government Popular Mobilization Units (PMU), or Hashd al-Sha'abi, also contributed to ensuring security.
847/940
Please type in your comments in English.
The comments that contain insults or libel to individuals, ethnicities, or contradictions with the laws of the country and religious teachings will not be disclosed