IRGC Commander: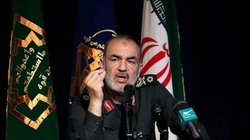 Commander of the Islamic Revolution Guards Corps (IRGC) Major General Hossein Salami underlined that Iran has grown so much powerful that enemies resort to lies and allegations to blame the country for any incident in the world.
RNA - "Today, we have become so much powerful that enemies are forced to lie and blame Iran for any incident which happens," General Salami said, addressing a gathering in the Northeastern province of North Khorassan on Thursday.
He stressed Iran's high power to safeguard its borders against all enemy threats, saying that the country is not concerned about enemies' plots and threats due to the vigilance of its Armed Forces.
His remarks alluded to the allegations raised by the US and Saudi Arabia that Iran was involved in the Saturday Yemeni drone attacks against the Saudi oil facilities.
Yemen's Ansarullah movement announced on Saturday that its drones had successfully attacked two oil plants in the heart of Saudi Arabia's oil industry, stressing that the attacks were a firm response to Riyadh's relentless bombardment of Yemen.
The recent operation came just weeks after Yemeni forces conducted attacks on an oil field affiliated to Saudi Aramco in the East of the kingdom in retaliation for Riyadh's war on their country. Oil facilities at Shaybah, which has the largest strategic oil reserve in Saudi Arabia near the UAE border and operated by state-oil company Saudi Aramco, were targeted by 10 Yemeni drones.
Saudi Arabia on Wednesday displayed what it claimed as Iranian drones and cruise missiles that it said were used in an attack against Aramco facilities at the weekend.
The attacks were "unquestionably" sponsored by Iran but investigations are still underway to pinpoint the exact launch location, defense ministry spokesman Col. Turki Al-Maliki said at a news conference in Riyadh.
He also claimed that the strikes came from North of the targets and not from Yemen.
US Secretary of State Mike Pompeo also blamed the Saturday drone attacks by the Yemeni army against Saudi Arabia's oil installations on Iran claiming on Twitter that there was "no evidence the attacks came from Yemen".
After his remarks, Iranian Foreign Minister Mohammad Javad Zarif blasted Pompeo for allegations against Tehran, saying that Washington which had failed in pressures against Iran was now resorting to lies and deceits.
"Having failed at max pressure, Pompeo's turning to max deceit," Zarif wrote on his twitter page on Sunday.
"The US and its clients are stuck in Yemen because of illusion that weapon superiority will lead to military victory," Zarif added.
He noted that blaming Iran won't end disaster, saying that the US and the Saudi-led coalition should accept Iran's "April 15 proposal to end war and begin talks" to resolve the crisis in Yemen politically.
Also, on Wednesday, Secretary of Iran's Supreme National Security Council (SNSC) Ali Shamkhani dismissed the US allegations of Tehran's involvement in the Saturday attacks on Saudi oil installations, warning of a crushing and powerful response to any aggression.
"The crisis in Yemen that Saudi Arabia's continued military aggression has prolonged for over 50 months has no military solution and can end only within the framework of Yemeni-Yemeni talks and without interference of third parties," Shamkhani said.
He described the Yemeni people's defense against foreign aggression and cruel massacre of the country's citizens as their legitimate and legal right and a natural reaction to aggressors' cruelties.
Shamkhani noted that the Yemeni army designs and builds its own weapons, and said blaming other countries for the Saturday attacks is just escaping ahead not to account for wasting resources to purchase advanced but ineffective military equipment from the Western states.
He underlined that Iran's strategic policy is decreasing tension, avoiding any clashes and resolving the regional crises through talks.
"Meantime, Iran monitors, with full preparedness, any intention and move for the purpose of aggression against the country or the interests of the Islamic Republic and will give a decisive and all-out response to possible mischiefs in the harshest way which can surprise the aggressors," Shamkhani said.
Also, the Yemeni Armed Forces spokesman's remarks and images taken by the country's drones before and after the Saturday attacks exonerated Iran of allegations by the US and Saudi officials.
Spokesman of Yemen's Armed Forces Yahya Saree in a press conference displayed images taken by the Yemeni drones before and after the Saturday attacks against the Saudi Aramco oil facilities.
During the press conference in Sana'a on Wednesday, General Saree highlighted that aerial photographs, taken by Yemeni reconnaissance drones in the wake and aftermath of the operation, show the extent of damage caused on the two major oil facilities in Saudi Arabia, stating that it was launched following a careful intelligence collection process.
"The destruction of the targeted facilities is far greater than what has been announced. Americans sought to publish fabricated pictures of the operation aftermaths as part of attempts to downplay it. The blaze lasted for several hours and authorities in the state of aggression (Saudi Arabia) could not contain it," the high-ranking Yemeni military official pointed out.
Saree went on to say that various kinds of combat drones were used in the Second Deterrent Balance Operation, noting that they were launched from three different locations according to their flight endurance and designated targets.
He underlined that the third generation of domestically-designed and -manufactured Qasef (Striker) combat drones, long-endurance Sammad-3 (Invincible-3) drones – which have an operational range of 1,500 kilometers to 1,700 kilometers and newly-developed drones equipped with jet engines.
Saree said each of the new drones can carry four precision-guided bombs with fissionable heads every time, and can monitor and hit their targets from several angles.
"Other aircraft were also used so the main combat drones could hide in their shadow without being detected, and signal jamming devices effectively disabled the enemy's air missile defense systems," he said.
According to Fars News Agency, General Saree lauded the highly disruptive drone attacks on Saudi Aramco petroleum and gas processing plants at Abqaiq and Khurais in the kingdom's Eastern Province as an outstanding example of the military prowess of Yemeni army troops and allied fighters from Popular Committees.
"Our forces have reached a high level of efficiency and ability. They can manufacture various types of unmanned aerial vehicles in record time. The Second Deterrent Balance Operation, which targeted Saudi oil installations, is a perfect example of the capabilities of our forces in terms of planning and implementation," he said.
"We assure the world that the free and steadfast Yemeni nation will not hesitate to respond to the (Saudi-led) coalition of aggression, and will use its legitimate right to target all targets deep inside the countries involved," General Saree said.
The spokesman for Yemeni Armed Forces then cautioned the United Arab Emirates against its atrocious military campaign in Yemen, emphasizing that Emirati officials will rue the day if they continue their aggression.
"Simply one operation can inflict heavy losses upon them and strike them with a pang of regret. We hereby announce that dozens of targets in the UAE, namely in Abu Dhabi and Dubai, are within our range. We urge the aggressors to stay away from Yemen if security and safety of their infrastructure and glass towers matter to them," Saree concluded.
847/940
Please type in your comments in English.
The comments that contain insults or libel to individuals, ethnicities, or contradictions with the laws of the country and religious teachings will not be disclosed