Service :
10 August 2019 - 11:21
News ID:

446475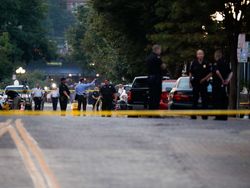 The head of the powerful gun lobby in the United States rejected calls for tougher restrictions on firearms, claiming they would not have prevented the recent mass shootings in the states of Texas and Ohio.
RNA - A gunman on Saturday killed 20 people and wounded dozens more in an attack at a Walmart in El Paso, Texas, on Saturday. Less than a day later, at least nine people were killed and more than two dozen were injured in a Dayton, Ohio, shooting. The two shootings are not believed to be linked, World News reported.
Director of the National Rifle Association (NRA) Wayne LaPierre stated on Thursday that he had spoken to US President Donald Trump since the two massacres that left 31 dead.
"I'm not inclined to discuss private conversations with President Trump or other key leaders on this issue," LaPierre said in a statement.
"But I can confirm that the NRA opposes any legislation that unfairly infringes upon the rights of law-abiding citizens. The inconvenient truth is this: the proposals being discussed by many would not have prevented the horrific tragedies in El Paso and Dayton," he added.
Trump has not publicly acknowledged any conversation with LaPierre since the shootings, but, according to a report bt The Washington Post, the NRA boss warned the American president in a telephone call on Tuesday against backing tougher background checks.
The mass shootings in El Paso, Texas and Dayton, Ohio, has sparked renewed calls for the US Congress to pass legislation to prevent gun violence.
Amnesty International dived headlong into the US gun control debate, urging travelers to be cautious amid a "human rights crisis" they blame on "ubiquity of firearms" and government reluctance to confiscate them.
On Thursday, more than 200 mayors urged the US Senate to approve legislation, already passed by the lower House of Representatives, that would require background checks for all gun purchases and regulate secondary sales.
House Speaker Nancy Pelosi (D-Calif.) and Senate Minority Leader Charles Schumer (D-N.Y.) stated on Thursday that they had spoken with Trump and urged him to support a universal background check bill.
Trump stated this week he supported proposed legislation that would block gun sales to people with mental health issues. But LaPierre noted measures under discussion would make millions of Americans "less safe and less able to defend themselves and their loved ones."
Amnesty International had warned that the gun violence situation in the US has grown into a full blown "human rights crisis" and the Trump administration was doing little to solve it.
It is estimated that there are between 270 million and 300 million guns in the US, about one per person, according to the New York Daily News.
Perhaps it is no surprise then that Statistics by the US Centers for Disease Control and Prevention show firearms kill more than 33,000 people in the US every year, a number that includes accidental discharges, murders and suicides.
United States counties where Trump hosted a campaign rally in 2016 saw a 226 percent increase in reported hate crimes compared to similar counties that did not host one, an analysis released by The Washington Post revealed in March 2019.
According to Fars News Agancy, FBI reported in November 2018, hate crimes increased in the United States for the third year in a row in 2017, rising 17 percent from the previous year. Law enforcement officials reported 7,175 hate crime incidents last year, up from 6,121 in 2016, with more incidents motivated by racial, ethnic or religious bias than in previous years.
Critics say that Trump's election has emboldened far-right groups and white supremacists and increased levels of xenophobia across the country.
Three of the deadliest mass shootings in the United States's modern history have occurred since October 2017.
In February 2018, a gunman opened fire at a high school in Southeastern Florida, killing at least 17 people and injuring more than a dozen others.
In early November 2017, at least 26 people were killed in a mass shooting during a church service in Sutherland Springs, Texas, making it the "largest mass shooting in state history".
The shooting came about a month after Stephen Paddock opened fire on concertgoers at the Mandalay Bay Resort and Casino on the Las Vegas Strip, killing 58 people and injuring more than 500 others.
847/940
Please type in your comments in English.
The comments that contain insults or libel to individuals, ethnicities, or contradictions with the laws of the country and religious teachings will not be disclosed