Analyst: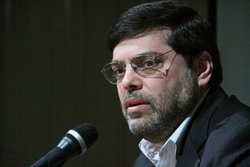 A prominent Iranian analyst warned that a positive response by Tehran to the US offer of talks would be followed by the US excessive demands and imposition of still more sanctions on Iran.
RNA - "I think it is clear that we should not renegotiate with the Americans again for several reasons. For one, the Trump administration easily tore up an agreement which had been worked on for 10 years," Seyed Mohammad Marandi, a professor at the University of Tehran, said.
He added that when the US defies its undertakings, how could a country then trust it again with another round of negotiation. "When the US violates the agreements and we at the same time agree with new negotiation, actually, we encourage the American side to continue this approach and they understand that any time they do not remain loyal to their undertakings, they can blackmail us" and impose more sanctions against Iran, he added.
Elsewhere, Marandi downplayed the US war rhetoric against Iran, and said they are well aware of the dire consequences and costs of such a move, as it will end up in the destruction of all oil and gas facilities in the region, make protection of oil tankers impossible, force the US to leave Iraq and Afghanistan, increase the number of refugees in Europe and distort the world economy.
Tehran has several times stressed that it would never return to the negotiating table with the US under Washington's pressures, saying that the White House sanctions had been ineffective and would not produce desired results.
In relevant remarks last month, Iran's Supreme Leader Ayatollah Seyed Ali Khamenei strongly rejected talks with the United States, and told the visiting Japanese premier that he doesn't see Donald Trump as a party deserving to receive a message from Iran.
"I do not consider Trump, as a person, deserving to exchange messages with. We will not negotiate with the United States," Ayatollah Khamenei stressed in the meeting in Tehran on June 13.
During the meeting, Japanese Prime Minister Abe Shinzo told Ayatollah Khamenei that "I would like to give you a message from the President of the United States".
Ayatollah Khamenei responded by pointing to the US ingenuity and untrustworthiness, and argued, "We do not doubt your sincerity and goodwill. However, regarding what you mentioned about the President of the US, I do not consider Trump as a person worth exchanging any message with and I have no answer for him, nor will I respond to him in the future."
"What I am going to say is part of our talks with the Japanese Prime Minister. Because we consider Japan a friend of ours. Although, there are some complaints," he added.
Ayatollah Khamenei referred to Shinzo's remarks that the US intends to prevent Iran's production of nuclear weapons, and said, "We are opposed to the nuclear weapons and my religious Fatwa bans production of nuclear weapons but you should know that if we intended to produce nuclear weapons, the US could do nothing and its non-permission was not an obstacle."
He also described stockpiling of nuclear weapons as an unwise measure, and said, "The US is not qualified at all to say which country should have or have not nuclear weapons because the US has several thousand nuclear warheads in its arsenals."
Referring to the Japanese prime minister that Trump told him that "the United States is not after regime change in Iran", the Supreme Leader insisted, "Our problem with the United States is not about regime change. Because even if they intend to pursue that, they won't be able to achieve it; just as previous US presidents tried to destroy the Islamic Republic of Iran during the past 40 years, and failed. What Trump says, that he is not after regime change, is a lie. For, if he could do so, he would. However, he is not capable of doing it."
Ayatollah Khamenei referred to the Japanese prime minister's remarks regarding the United States' request to negotiate with Iran about the nuclear issue, and said, "The Islamic Republic of Iran negotiated for 5 to 6 years with the United States and the Europeans — the P 5+1 — which led to an agreement. But the United States disregarded and breached this definite agreement. So, what common sense would once again allow negotiations with a state that has thrown away everything that was agreed upon?"
He pointed to the forty years of hostility that the US has showed to the Iranian nation and its continued hostility, and said, "We believe that our problems will not be solved by negotiating with the US, and no free nation would ever accept negotiations under pressure."
According to Fars News Agency, Ayatollah Khamenei then responded to remarks by the Japanese Prime Minister on how the Americans have always wanted to impose their own beliefs and views on other nations, and stated, "It is good that you acknowledge this fact, and you should also know that the Americans will observe no limits in imposing their views."
The Leader of the Islamic Revolution pointed to the process of negotiations with the US that led to the formation of the 2015 nuclear deal, and said, "After the nuclear agreement, the first person to immediately breach the JCPOA was Mr. Obama himself; the same person who had asked for direct talks with Iran and had also sent a mediator."
"This is our experience, and rest assured Mr. Abe that we will not repeat it," he underlined.
Ayatollah Khamenei referred to the remarks made by the Japanese prime minister quoting Trump as saying that "negotiating with the US will help Iran progress", and said, "By God's grace, we will progress without negotiating with the US and despite the sanctions."
The Leader of the Revolution welcomed the Japanese prime minister's suggestion of expanding relations between Japan and Iran, and reminded, "Japan is an important country in Asia, and if they are willing to expand relations with Iran, they should prove their sincere willingness -- just as some important countries have shown their interest."
847/940
Please type in your comments in English.
The comments that contain insults or libel to individuals, ethnicities, or contradictions with the laws of the country and religious teachings will not be disclosed