Service :
08 June 2019 - 10:17
News ID:

445292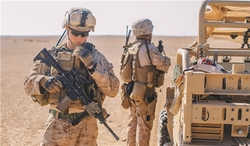 In a shocking new development, Australian police have stormed a building belonging to the Australian Broadcasting Corporation (ABC), as part of an ongoing investigation against stories related to Australian forces involved in possible war crimes in Afghanistan.
RNA - Prime Minister Scott Morrison tried to downplay the matter, though this was actually the second day of such raids against the reporter involved, while insisting that his government is "committed to press freedom." He sought to avoid responsibility, however, saying that probe was actually started before he became premier. He also pointed out that ABC is a state-run outlet.
The articles in question are specifically related to the use of "unlawful killings" by Australian special forces. The warrant demanded drafts of the stories, access to reporter emails, and handwritten notes. Over 100 pages of documents were taken, and two USB drives.
In 2017, ABC revealed a myriad of killings by Australian special forces, with attempts to cover them up by avoiding reporting the extent of their killings up the chain of command. The killings included young children, and were the subject of a secret military inquiry.
The special forces appeared to hope no one would find out about the killings at all by just not reporting them, but local villagers found the slain civilians and they reported them, leading to inquiries.
The leaked documents showed not only that the Australian forces killed civilians without reason, but that some routinely carried "drop weapons" to leave on the bodies of people they killed so they could chalk them up as legitimate battlefield kills.
Despite both Morrison and ABC avoiding making this a huge deal, other Australian media outlets are deeply critical, condemning it as a troubling move against freedom of the press and aiming to punish journalists for leaking things the government is trying to keep secret.
This kind of deliberate cover-up should stun no one. Secret files released by NSA whistleblower Edward Snowden have already revealed that Australian intelligence agency supports US's covert strikes outside of war zones in operation codenamed 'Overhead'.
The documents include details about how terrorism suspects are targeted in drone strikes and how strikes could go wrong at times, killing civilians instead. The documents also show how closely the National Security Agency has worked in Pakistan and Yemen with its British counterpart, Government Communications Headquarters.
Britain claims it has carried out drone strikes only in war zones in Afghanistan, Iraq and Libya. But the documents say British intelligence has also helped guide American strikes outside conventional war zones.
Unsurprisingly, representatives from American and Western intelligence agencies have declined to comment on the information covered in the Australian media. So don't expect any renewed debate on the so-called 'kill list' or assassination campaign in Afghanistan to break into the mainstream anytime soon.
This is because analysis of thousands of other available information has led the international community to judge with high confidence that the US-led drone and air strikes have indeed killed thousands of innocent civilians in places like Afghanistan, Iraq, Yemen, Libya and Somalia.
The international community has been criticizing for years the US-led drone war and the existence of a presidential 'kill list'. They have been issuing objections over the legality of the program and the number of innocent people who have been killed, maimed or left traumatized by these bombings.
According to Fars News Agancy, Washington and the mere extras might claim otherwise, that their drone war has had a stellar record of accuracy, but watching the news coverage of so many tragic deaths in the war-torn countries and the way Australian government is trying to silence its own reporters, the impression is totally different. In fact, killing innocent people has been a central part of the US-led wars and drone programs from the beginning, and has grown in many ways into an inescapable outcome.
What's clear and troubling is that many of these innocent victims have died amid media silence too. They have never ended up meriting a special press conference and investigation into what went wrong – let alone a formal apology from the US and its Western allies.
Under their doctrine, apology and redress is not available for Muslim civilians killed in wars. Thanks to the United Nations silence and complicity, the US government and its British and Australian cohorts have never been transparent about the thousands of deadly drone strikes they have conducted in Afghanistan either.
This is while human rights organizations have long called for the US and allies to cease their covert drone campaigns. Their target-killing programs in Afghanistan and Yemen not only fail to conform to international protocols, but also further destabilize the region. They continue to kill civilians jointly overseas without trial and accountability and do everything to bury the mess behind, even if that requires raiding their TV news stations and punishing reporters.
847/940
Please type in your comments in English.
The comments that contain insults or libel to individuals, ethnicities, or contradictions with the laws of the country and religious teachings will not be disclosed