Top Commander: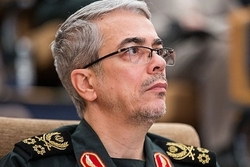 Chief of Staff of the Iranian Armed Forces Major General Mohammad Hossein Baqeri, in a meeting with Commander of the Iraqi Army Aviation Staff Lieutenant General Hamed al-Atiya, said that Tehran and Baghdad are two influential players whose cooperation can boost regional security.
RNA - Maj. Gen. Baqeri, during his Friday meeting with Staff Lieutenant General Hamed al-Atiya in Tehran, said that Iran and Iraq are two highly influential countries in the Islamic world and West Asia, whose joint cooperation can contribute a lot to regional peace and stability.
Bilateral cooperation between Iran and Iraq can play an important role in strengthening peace, security and stability in the region to a great extent, Baqeri added.
Iran attaches great importance to its relationship with Iraq, he said, calling for boosting strategic, technical and industrial cooperation between the two sides.
"We consider security and development of Iraq as security and development of our own country," Baqeri reiterated.
For his part, al-Atiya thanked Iran for its unsparing support to Iraq in the fight against ISIL and Takfiri terrorists and emphasized, "Iraq government is deeply interested in boosting and enhancing bilateral ties with Iran in all areas."
Also on Friday, Commander of the Islamic Revolution Guards Corps (IRGC) Aerospace Force Brigadier General Amir Ali Hajizadeh said that the Aerospace Force is ready to transfer experience and technical knowhow to the Iraqi army in order to further bolster the Arab country's defense forces.
Brigadier General Hajizadeh, during his meeting with Iraqi Air Defense Commander Lt. Gen. Jabar Obeid Kadhim Jabbar, pointed to Iran's advisory measures and support to Iraqi aerospace forces in the fight against the ISIL and said, "From the first days of Iraq's fight against the ISIL and Takfiri terrorist groups, Iran's aerospace force stood by the people, government of armed forces of Iraq at the request of Iraqi government."
According to Fars News Agancy, Iran and Iraq have established long-standing and amicable relations with each other, which have been a thorn in the eyes of Global Arrogance, the Zionist regime and also reactionary Arab countries in the region, he added.
By acquiring world's latest technology in manufacturing various types of radar systems, command centers and control of ground-to-air missile systems as well as electronic warfare equipment, Iran's aerospace forces are ready to help Iraqi side boost its defense capabilities, Brig. Gen. Hajizadeh maintained.
Former Italian Ambassador to Iraq Marco Carnelos said last month that he had been told by American troops during his time of service in Iraq that Baghdad would have fallen to terrorists had it not been for Iran's measures under Commander of the Quds Force of the Islamic Revolution Guards Corps (IRGC) Major General Qassem Soleimani.
"I had some personal meetings with American officials and they admitted during the meetings that had it not been for Iran's immediate meddling in Iraq in 2014, Baghdad and Erbil would have fallen to the ISIL," Carnelos, who also served as an advisor to Italy's prime minister on Western Asia and North Africa, said.
He added that, based on his experience in Iraq, it was always Americans who were seeking to meet with Iranians and their requests were always declined by the Iranian side.
"I should admit that the US troops deployed in Iraq have a deep understanding of General Soleimani. They praise his capabilities. Through the Quds Force, Iran has managed to impede the American military's progress in the Middle East. The American forces have no choice but to accept the general as a key military figure in the region," highlighted the Italian diplomat.
Even when the US government started its full-fledged propaganda campaign against the IRGC, almost all Iraqi politicians and officials voiced their country's support for the military body, considering the IRGC as the savior of their country against the ISIL terrorists.
Earlier in mid-April, Iraqi Prime Minister Adel Abdul Mahdi blasted US Secretary of State Mike Pompeo for his lies about the business and economic activities of the Islamic Revolution Guards Corps (IRGC) in Iraq.
Pompeo had alleged that "some 20 percent of Iraq's economy is controlled by the IRGC".
Abdul Mahdi voiced surprise over the allegation, saying that the IRGC is not engaged in any economic activity in Iraq and Pompeo's remarks are "incorrect".
The Americans speak of "20 percent, 10 percent, five percent or whatever other proportion…I don't know how they have calculated these figures," he told reporters in a press conference on Wednesday.
"We enjoy advanced economic ties and business transactions with Iran, but this is different from maintaining economic relations with the Corps," Abdul Mahdi said.
Pompeo made the claims after his country formally blacklisted the IRGC as a "Foreign Terrorist Organization" following a relevant announcement by President Donald Trump on 8 April.
847/940
Please type in your comments in English.
The comments that contain insults or libel to individuals, ethnicities, or contradictions with the laws of the country and religious teachings will not be disclosed