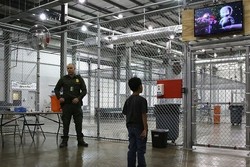 There is a reason why the Trump administration continues to separate migrant children from their parents and deny them the full protections generally awarded to unaccompanied children. It's deliberate, systematic, and widespread.
RNA - A new memo by US lawmakers suggests that the US government has separated thousands more migrant children from their families than previously reported. These reports reveal that the Trump administration intends to "traumatize children and intentionally create a humanitarian crisis at the border." The reason is that the Trump administration officials want to deport children more quickly by denying them asylum hearings after taking them away from their parents.
"It appears that they wanted to have it both ways - to separate children from their parents but deny them the full protections generally awarded to unaccompanied children," concludes ACLU attorney Lee Gelernt, who led a class-action lawsuit on behalf of migrant parents.
On the same note, human advocates and Refugees International say President Donald Trump's "child immigration strategy is immoral and comes from a dark place in the heart of this administration." They say "children are NOT expendable commodities in political battles."
Sadly, Trump's new executive order is set to continue to perpetrate serious abuses of human rights against children. These include measures which could reasonably be expected to result in their serious emotional and psychological damage. In particular, the executive order does not call for the reunification of thousands of children who have already been separated from their families by Trump's so-called zero tolerance policy. The fate of these children remains unclear. It is also very unclear whether Trump will end child separation.
In light of the ongoing human rights abuses under the family separation policy, it is critical that the thousands of children who have already been separated from their parents be reunited with them immediately, and that all such family separations cease at once. Moreover, while government accountability for abuses is nowhere to be found, Refugees International believes that these actions of the Trump administration must not only be ended immediately, but must be subjected to independent review due to their obvious and foreseeable consequences on very vulnerable children.
What's more, the Trump administration's commitment to the criminalization of asylum is in stark violation of basic humanitarian principles, in violation of legal commitments made by the US, and runs counter to US efforts to press other governments around the world to respect human rights and treat migrants, refugees and asylum seekers with decency.
As is often the case, the Trump administration continues to prosecute all migrants, refugees and asylum seekers who enter the US without authorization. This position is both cruel and unnecessary. It violates US obligations under the Convention Relating to the Status of Refugees and its 1967 Protocol, to which the US acceded a long time ago. Under Article 31 of the Convention, parties "shall not impose penalties, on account of their illegal entry or presence, on refugees who, coming directly from a territory where their life or freedom was threatened…enter or are present in their territory without authorization, provided they present themselves without delay to the authorities and show good cause for their illegal entry or presence."
According to Fars News Agancy, this provision is all the more important in light of the fact that migrants, refugees, asylum seekers and their families are simply unable to promptly request asylum or protection at ports of entry on the US-Mexican border due to inadequate US processing capacity. Furthermore, asylum seekers and their families have to wait many months in the border area in extraordinarily difficult conditions. Under such circumstances, those who make the decision to cross the border without authorization should be treated in accordance with Article 31 of the Refugee Convention.
Finally, President Trump's approach stands in sharp contrast to the efforts of US officials around the world who preach other governments not to violate human rights and punish and incarcerate refugees and asylum seekers for crossing borders without authorization.
The truth is that the US government's policy to detain immigrant children with their parents and/or prosecution and incarceration of refugees and asylum seekers solely due to unauthorized entry is in violation of US commitments under the Refugee Convention and its Protocol. Beyond that, however, detention of children is both unnecessary and cruel.
Under the circumstances, it's a waste of time to hope that the Trump administration will ever bother to reverse its immoral zero tolerance policy of detaining and separating migrant children from their parents, let alone prove in the future to be respectful for human rights and human values.
847/940
Please type in your comments in English.
The comments that contain insults or libel to individuals, ethnicities, or contradictions with the laws of the country and religious teachings will not be disclosed