No More Road Block:
Rasa - Nearly half a million Rohingya Muslim refugees have fled across the border and have sought refuge in Bangladesh, while 300,000 more have crossed the border to other countries. Of this, women and girls are the most at risk, sleeping under open skies, roadsides, and forest areas with little or no protection.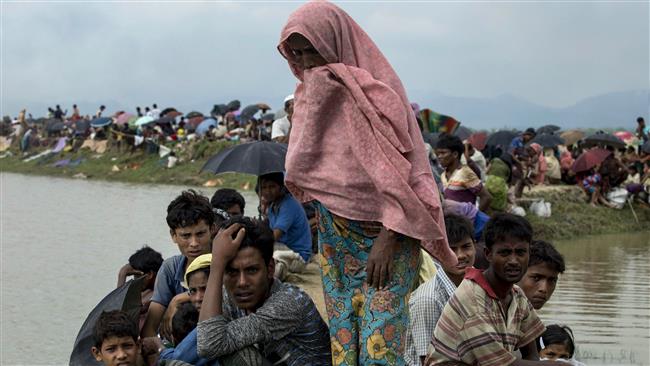 RNA - Oxfam says more than two-thirds have no shelter, half have no drinking water, and with the existing camps and host communities underequipped to deal with such a large influx, the ground situation is chaotic and volatile. The majority of Rohingya refugees are women and children. Initial assessments suggest that 53% are female, 58% percent are under the age of 18, and 10% are either pregnant or lactating mothers. Many have lost their families, communities, and all their possessions, and after an emotionally and physically grueling journey across the border, they are left with little hope.
They are greeted with overburdened camps and impoverished communities. The already appalling ground conditions have only been made worse by the recent torrential downpours which have also slowed delivery of aid and construction of facilities like wells, toilets, and shelter. There are reports of outbreaks of fevers, respiratory infections, dysentery, and diarrhea.
The scale of the needs is enormous with a majority struggling for life-saving essentials like clean drinking water, food, medical supplies and essential facilities. In early September, the humanitarian groups estimated that 58 million liters of water is needed daily, 1.5 million kilos of rice is needed every month, and that 60,000 shelters, 20,000 toilets, and identifying land for more camps are among the most pressing needs. As the influx grows, so do the needs, and those of women, girls, and young children must be more carefully assessed and elaborated.
The United Nations commends the efforts of the Bangladesh government, humanitarian partners, and local communities in providing life-saving assistance for the nearly half a million refugees. However, less than half the funding for the $77 million appeal launched by the humanitarian community a month ago has been committed so far. Moreover, the UN could do much more to alleviate the suffering of Rohingya Muslims if it also calls for an arms embargo at the Security Council against the repressive and much-maligned military regime in Myanmar.
It is now an open secret that Israel is one of the primary arms suppliers to the increasingly politically-isolated nation. Israel's longest running newspaper, Haaretz, has accused Israel of "arming war criminals". In an editorial early September, the newspaper said the violence directed at Myanmar's Rohingya minority by the country's regime has intensified, including burning of their villages -"information that has been confirmed by satellite images. But none of this has led to a change in the policy of the Israeli Defense Ministry, which is refusing to halt weapons sales to the regime in Myanmar."
Several Western countries are also providing weapons to the Myanmar military which should stop. They must suspend these activities until sufficient accountability measures are in place at the Security Council. Given Myanmar's so-called progress towards democracy, former President Barack Obama lifted longstanding US sanctions against Myanmar last year despite warning by human rights groups that easing the pressure was premature.
This is while a global coalition of some 88 civil society organizations is calling on the Security Council to seriously consider an arms embargo against the military - and targeted sanctions against individuals responsible for crimes and serious abuses.
As is, Myanmar's military clout and its political arrogance depend largely on the staggering array of Israeli and Western weapons, including anti-ship missiles, surface-to-air missile systems, frigates, and tanks, at its command. Therefore, any resolution imposing economic or military sanctions on Myanmar is likely to be vetoed either by the United States or UK - or both. Other Security Council members have also reached agreements to sell fighter aircraft, combat helicopters, light helicopters, and surface-to-air missiles. These agreements need to be terminated as well.
As per International Law and UN Charter, all concerned UN member states should consider bilateral, multilateral, and regional actions they can take to place added pressure on the Myanmar regime. In particular, Israel and key arms suppliers in the West should immediately suspend military assistance and cooperation with Myanmar.
News accounts make it clear that the concerns raised by not just Oxfam, but the entire world are well founded. The Myanmar military has no intention to respect human rights and fundamental freedoms. Until sufficient accountability measures are in place, any country that is currently providing weapons to the military regime and is not in favor of an arms embargo at the Security Council is complicit in the ongoing war crimes and crimes against Rohingya Muslims in Myanmar.
847/940
Please type in your comments in English.
The comments that contain insults or libel to individuals, ethnicities, or contradictions with the laws of the country and religious teachings will not be disclosed