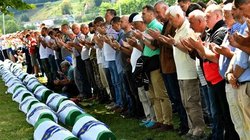 The Bosnian war saw thousands killed on the edges of Europe 25 years ago. However, the conflict has become synonymous with the genocide at Srebrenica. The trauma of war lives on as survivors of the genocide are faced with new challenges.
Rasa - Bosnia is marking 25 years since the genocide at Srebrenica - Europe's worst atrocity since World War Two.
In July of 1995, Bosnian Serb forces killed more than 8,000 Muslim men and boys in the eastern Bosnian enclave of Srebrenica, a designated United Nations 'safe haven'.
War had broken out in Bosnia in three years earlier after the breakup of former Yugoslavia. The population was made up of Orthodox Serbian Christians, Catholic Croats and a majority Bosniac Muslim population, however attempts to form a coalition government were rejected by ethnic Serbs and Croats who sought to marginalise the Muslim population.
Srebrenica was an isolated muslim enclave deep within in Serbian held territory.
The UN who attempted to mediate the conflict had designated Srebrenica a safe haven, however Bosnian Serb President Radovan Karadzic ordered the enclave to be entirely cut off. after a number of months his forces disguised as U.N. soldiers ambushed the town and began their massacre.
Karadzic who was labeled the butcher of Bosnia was convicted of genocide in 2016, however 25 years on Bosnians find themselves in a new battle as Serbian Bosnians attempt to rewrite the history of the tragedy.
The Bosnian war claimed 100,000 lives, mass graves and human remains are still being found to this day.
The Bosnian war remains a stain on the European conscience who promised never again after the second world war. for too long however member states sat idly by as thousands of civilians were massacred.
Bosnians have vowed to never forget the horrors of that war and have promised to remind Europe as well as the UN of their apathy and inertia while Bosnian muslims were being killed.
Murtaza Jaffer
Please type in your comments in English.
The comments that contain insults or libel to individuals, ethnicities, or contradictions with the laws of the country and religious teachings will not be disclosed