Service :
08 March 2020 - 16:11
News ID:

449476
Former US marine: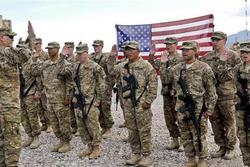 The years-long occupation of Afghanistan by the United States began based on a lie and the US has been operating in the war-ravaged country "under the law of the jungle," says a former US marine.
RNA - Kenneth O'keef, a peace activist and former US marine in Oregon, made the remarks during a Friday edition of Press TV's The Debate program while commenting on the International Criminal Court (ICC)'s decision to launch a probe into the alleged war crimes and crimes against humanity by the US in Afghanistan.
US Secretary of State Mike Pompeo was quick to denounce the decision, calling it "reckless" and describing the move as a "truly breathtaking action by an unaccountable political institution masquerading as a legal body."
"The invasion of Afghanistan was based on a lie that the Taliban was responsible somehow for providing aid and sanctuary to a man named Osama bin Laden who happened to be hanging out in a CIA-controlled hospital in Dubai in July apparently a couple of months before he committed the greatest terrorist act of all times," O'keef told Press TV on Friday, referring to the former leader of the al-Qaeda terrorist group accused by Washington of being behind the September 11, 2001 terrorist attacks in the United States.
"There is just one lie after another and all of this nonsense that's being spouted is an absolute denial of the fact that we have not been operating under law, we have been operating under the law of the jungle, might makes right, and the United States has been in charge, that's a fact and we have invaded and occupied so many countries, it's not even funny, we have hardly gone a year without bombing someone somewhere in the world."
The former US marine also praised the decision by the ICC and said the move could set a precedent for other countries, stressing that "law plays a critical role in establishing a world in which we can live in dignity, all of us, without the threat of war, poverty and starvation and mass violence."
Tim Kirby, an American radio host and political commentator in Moscow, was the other panelist invited to the show and denounced as a "farce" the US war in Afghanistan.
"The Afghanistan war has revealed to be a farce and a proven farce and it's been a complete waste of time, money, effort and lives on both sides," Kirby said.
The political analyst, however, argued that the crimes committed by Washington in Afghanistan was part of the American foreign policy and the ICC lacked enough authority to change that.
"The international criminal court really doesn't have much authority and there is nothing they can really do to stop the United States and they are not going to change the American foreign policy," Kirby noted.
The court upheld an appeal by prosecutors against a pretrial chamber's rejection in April last year of chief prosecutor Fatou Bensouda's request to open a probe in Afghanistan.
In 2006, the ICC's prosecutors opened a preliminary probe into possible war crimes and crimes against humanity committed in the Asian nation since 2003.
In 2017, prosecutor Bensouda asked judges to allow a full-blown probe, not only into Taliban and Afghan government personnel but also international forces, US troops and members of the Central Intelligence Agency (CIA).
Bensouda's move angered Washington, which in April last year revoked the Gambian-born chief prosecutor's visa as part of broader restrictions on ICC staff probing American or allied personnel.
Former national security adviser John Bolton warned in 2018 that the US would arrest ICC judges if the court pursued an Afghan probe.
The US invaded Afghanistan to overthrow a ruling Taliban regime in 2001. American forces have since remained bogged down in the country through the presidencies of George W. Bush, Barack Obama, and Donald Trump.
About 2,400 US soldiers have been killed, along with unknown tens of thousands of Afghan troops, Taliban militants and Afghan civilians.
America has spent more than $1 trillion in fighting in Afghanistan.
Fighting has continued ever since -- last year more than 3,400 civilians were killed and almost 7,000 injured, according to data provided by UN agencies.
Over 100,000 Afghans have also been killed or injured since 2009, when the UN Assistance Mission in Afghanistan began documenting casualties.
The Taliban now control or hold influence over more Afghan territory than at any point since 2001.
After nearly two decades of war, the United States and the Taliban last week signed an agreement aimed at paving the way for complete withdrawal of American forces from Afghanistan.
About 14,000 US troops and approximately 17,000 troops from NATO allies and partner countries are stationed in Afghanistan.
847/940
Please type in your comments in English.
The comments that contain insults or libel to individuals, ethnicities, or contradictions with the laws of the country and religious teachings will not be disclosed